Soil Testing

Our soil testing flyer (PDF) will explain how to take the sample and where to take it for processing.
Your soil samples can be dropped off at our Kirkwood location Monday through Friday 9 a.m. to 4 p.m.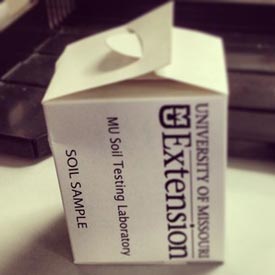 When preparing your samples please keep in mind:
Please DRY your sample before submitting! Leave soil sit out overnight on a tray with newspaper or other paper source.
If your sample is too wet when brought into the office, it will go through the drying process before being packaged for shipment.
Pull samples from at least 5 to 6 different areas — more is better — of your lawn or garden, even if they are tilled. One big sample from just one area of the yard/garden, will not give you accurate results.
Submit at least 2 cups of soil. Usually a sandwich bag or quart size storage bag filled two-thirds will suffice.
It takes 10 to 14 business days for results to be returned. If the soil is wet, add a few extra days.
Also, please keep in mind that the lab is extremely busy during the months of February, March, April, May and June.
When is the best time to have my soil tested?
Cool-season lawns are best fertilized in the fall months, so the best time to test is July or August, in time to have your results back no later than the middle of September.
Warm-season lawns perform best when fertilized in the late Spring/early Summer, so the optimum time is March or April.
Vegetable gardens do best if their amendments are made in the fall, after the growing season has end and you are ready to prep the beds for the winter. Anytime late in the harvest season is the best time to see what will need to be added for the coming season.
All other plants/crops are dependent on when their proper fertilization time is. Perform the testing at least a month prior to ensure that your results are back in time.
MU Extension in St Louis County (Kirkwood)
132 E. Monroe Ave
Kirkwood, MO 63122
314-400-2115
M-F 9 a.m.-4 p.m.
Not in the St Louis Metropolitan area? Every county has a local MU Extension center to take your samples to. Find your county's MU Extension center.
Chinch bugs in zoysia lawns
It is not uncommon to come across 30+ year-old zoysia lawns in St. Louis. They are resilient and require comparatively little care. That's why many homeowners are caught off guard by large areas that rapidly turn brown and die out in a matter of weeks. It is unclear why lawns without a history of chinch bug damage suddenly become infested. Read the article from Nathan Brandt!
Learn more
Subscribe to the MU Extension Commercial Horticulture Newsletter.
Check out all our videos and subscribe to the MU IPM YouTube channel.
Register for our weekly live Home Horticulture Town Hall.