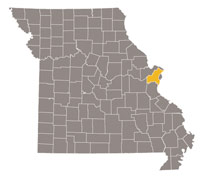 We bring Mizzou to you.
MU Extension in Saint Louis County is the outreach and engagement arm of the University of Missouri system providing research-based educational programs for youth and families, businesses and communities, and horticulture. MU Extension is known as a valued and trusted resource for Missourians; providing programming needs throughout the 90 municipalities of St. Louis County in addition to residents in St. Louis City.
Our 4-H, community development, horticulture and nutrition/wellness programs provide direct impact to our residents while business development and labor and workforce education support the infrastructure of the community.
We support STEM education in schools and community clubs, provide leadership development for residents and organizations, support the local Master Gardener and Master Naturalist Chapters, help small businesses start and grow, provide current workforce information to unions and businesses, and keep families and residents healthy and active.
We do all this through collaborations and partnerships, and through the support of the community.
Explore the MU Extension website and your county page to discover how MU Extension can enhance your life.
Show/Hide

Subscribe to St. Louis County newsletter

Sign up to receive St. Louis County newsletter, a monthly newsletter with information about events and programming happening in St. Luois county.
Use Tab key to loop through the section below. Press Enter or Space to enter content for each tab button. Press Esc key to exit and to go to the next section at any time.
Contact us
MU Extension St. Louis Metro Area Office
8225 Florissant Rd
Saint Louis, MO 63121-2020
Office hours:
8 a.m. to 4:30 p.m., Monday through Friday
MU Extension in St. Louis County
132 E. Monroe Avenue
Kirkwood, MO 63122
Office hours:
8 a.m. to 4:30 p.m., Monday through Friday
Description:
We are located a block from Kirkwood Rd at the corner of East Monroe and Taylor Avenues.