4-H
Clubs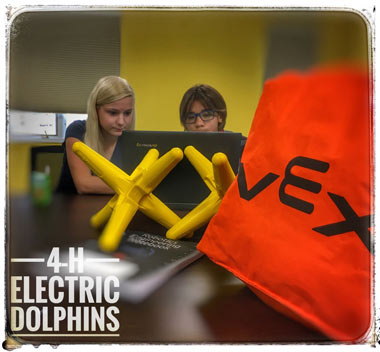 4-H Electric Dolphins – Members build, program, and compete using VEX and VEX IQ robots. The team also presents robotics workshops for community service projects.
The club meets every Tuesday from 11:00 am - 1:30 pm in Kirkwood.
Gateway 4-H – Members build and program VEX and LEGO Mindstorm robots to complete various tasks.
High school members, who compete in VEX Robotics Competition, meet every Tuesday from 9:30 am - 12:30 pm in Affton.
Younger members (grades 4-8), who can compete in FIRST LEGO League competitions and the Robot Invitational, meet every Thursday from 6:30 - 8 pm in Kirkwood.
NXT GEN – Members build and program LEGO Mindstorm NXT robots, along with other hands-on science activities, such as building with KEVA planks.
The club meets the 3rd or 4th Tuesday of each month from 6:00 – 8:00 pm in Kirkwood.
Lucky Horseshoes – Members learn about horsemanship and other topics through unique field trip experiences. The St. Louis County Horse Bowl team received second place in 2016 and first place in 2015 at the 4-H Junior Horse Bowl. The team also earned first place at the 4-H Junior Hippology competition in 2016.
The club meets periodically to practice for the 4-H Horse Bowl and Hippology contests.
Youth Futures – Members learn life skills as they prepare for college. Missouri 4-H Youth Futures College Within Reach offers programming to inform middle school and high school students and their parents about college and how to prepare for it, and to encourage the students to explore college opportunities.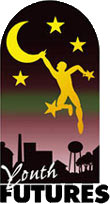 Missouri 4-H Youth Futures: College Within Reach
4-H Youth Futures prepares teens for college or post high-school studies. Missouri 4-H Youth Futures College Within Reachoffers programming to inform disadvantaged high school students and their parents with information about college and how to prepare for it, and to encourage the students to explore college and post-high school opportunities.
Each July, high school juniors and seniors from across the state who have participated in the year-long mentoring program, converge on the MIZZOU campus to learn how to prepare for their next chapter in life through the program.
For more information on this program, contact:
St. Louis County: Amanda Meek, 314-400-7386 or Terry Olishile, 314-400-7292
St. Louis City: Gus Robinson, 314-266-6510
State level: Donna Garcia, 573-882-3391
4-H Science, Engineering and Technology (SET)
Provides leadership and support for St. Louis area programs related to the National 4-H Science emphasis. This bold national effort seeks to engage one million new young people in science by 2013 to address increased demand for science and technology professionals.
Our 4-H Robotics program can be customized for your school or after school setting. The program offers youth an opportunity to build and program the LEGO Mindstorm NXT or EV3 robots while learning communication, teamwork, and problem solving skills.
There are also several 4-H Robotics clubs in the St. Louis area to meet the demand for STEM programming.

Contacts:
Amanda Meek, call 314-400-7386
Vince McKinney, call 314-400-7375
Show/Hide

4-H clubs

4-H clubs are open to ages 8 to 18. Clubs meet monthly for group activities and club business. Each club elects officers and has an approved adult leader who supervises club activities. Club members also enroll in projects in their areas of interest.

With projects on more than 75 topics, 4-H has something to interest every child. Here are just a few of the opportunities 4-H offers—geocaching, robotics, international exchanges, horsemanship, pets, starting a business, arts and crafts, raising animals, woodworking, photography and gardening.

Show/Hide

Clover Kids clubs

Clover Kids introduces 5- to 7-year-olds to the 4-H experience. In Clover Kids, children learn how to get along with others, work in groups, explore their interests, while building self-confidence. Clover Kids do not enroll in projects or raise animals, and do not participate in competitive events, contests or shows.

Show/Hide

How to join

Joining 4-H is as easy as contacting the extension center. A staff member will explain the enrollment process and membership dues. In addition to dues, some projects may require a small investment to get started, and there may be a fee for materials, trips or other activities.

Young people are welcome to join at any time. The 4-H program year runs from Oct. 1 to Sept. 30. Certain activities may have participation deadlines.

Show/Hide

Be a 4-H volunteer

Adult volunteers are essential to 4-H. Adult volunteers serve as club or project leaders, help with county or regional events, chair committees and organize fund raisers. You don't have to be a parent or grandparent of the 4-H member to get involved. All volunteers are screened for child abuse and neglect, as well criminal records, before they are accepted and each year thereafter. As a volunteer, University of Missouri Extension will provide you with training so you will be well-prepared and successful as an adult leader. The orientation includes information on 4-H history and the educational framework, the characteristics of age groups, character development and safety.