Master Naturalists
St. Charles, St. Louis and Franklin Counties
Training details
For more information, contact a chapter or your local extension office.
Want to be added to the waiting list?
Sign up
A training program to help you discover the natural Missouri and develop your skills as a volunteer naturalist, scientist, botanist, educator or recreation specialist. You will gain a wealth of natural science information in classes given by some of Missouri's finest natural resource specialists and build new friendships with other volunteers who share a love of Missouri's outdoors. Master Naturalists become part of a local chapter that volunteers to conserve Missouri's natural communities by:
Helping survey plants and animals.
Restoring landscapes to their natural splendor.
Developing hands-on nature programs or new trails and educational sites.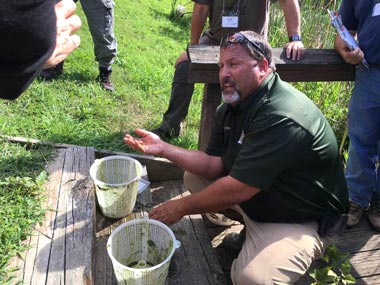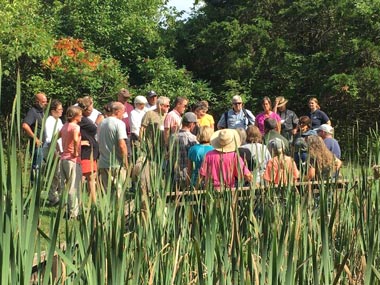 Missouri Master Naturalist pond ecology training.
After the training, you will be recognized as a Master Naturalist intern, and receive a certificate and badge. You will join one of the three local chapters listed below. The Master Naturalist chapter becomes a resource for the community by providing knowledge and expertise for a variety of natural resource needs.
You achieve the status of full Master Naturalist by completing 40 hours of volunteer service in approved projects and activities along with an additional eight hours of advanced training. Plenty of volunteer and advanced training opportunities are available throughout the year.
Find out if the program is right for you: Attend a meeting of one of the three local Master Naturalist Chapters to learn more about the activities and projects they are involved in. Website information for local chapters can be found below.
Background checks: Before you register you should understand that all participants will be required to undergo background checks. This requirement has been established due to the volunteer nature of this program and that some volunteer service could possibly include activities with children and youth. Even though you may have undergone previous background checks, you will be required to undergo the Master Naturalist background check to participate in this program.
Sponsoring organizations: University of Missouri Extension and Missouri Department of Conservation
Additional partners: Missouri Department of Natural Resources, Shaw Nature Reserve, and Forest Park Forever
This is a highly popular program, therefore, there is a waiting list to be invited to join. Please click on the "sign up" button above to be put on the waiting list. When registrations are open with availability, you will be sent an email invite to register for the class.
Chapters
Confluence Chapter (St Charles County area)
Great Rivers Chapter (St. Louis City/County area)
Miramiguoa Chapter (Franklin County area)