Community Development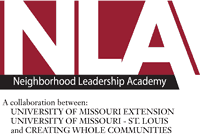 Neighborhood Leadership Academy
Neighborhood Leadership Academy provides hands-on leadership training emphasizing community building principles, organizational leadership and management practices, and personal leadership skills. The program connects resources at University of Missouri-St. Louis (Community Partnership Project, Nonprofit Management and Leadership Program, and MU Extension) to residents and neighborhoods wanting to create more livable communities. 
When:
Runs from September thru November annually, 10 Sessions
Where:
University of Missouri St. Louis Campus
Cost:
$425, Scholarships and early bird discounts available. Learn more.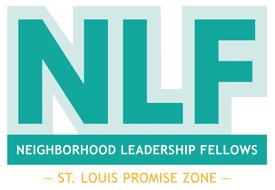 Neighborhood Leadership Fellows Program
Are you interested in joining a board, getting involved in local government, or serving on a state commission? The Neighborhood Leadership Fellows (NLF), is an advanced leadership program through Creating Whole Communities representing a partnership of UMSL, MU Extension, and St. Louis Promise Zone.
NLF aims to increase North St. Louis City and County residents participation in civic decision-making tables in order to produce more equitable regional policies for neighborhoods. Training will consist of one-weekend a month educational workshops, tactical training, positional power trainings, collaborative learning, mentoring and networking opportunities.
Fellows will receive a $2000 stipend and an UMSL Chancellor's Certificate upon completion.
Application closes November 1, each year. Program session dates, topics, and outcomes can be found on the NLF website.
Local Government Partnership
The Local Government Partnership is a cooperative effort between University of Missouri-St. Louis, MU Extension and East-West Gateway Council of Governments. The program provides technical advice to local government, conducts training programs for local officials, encourages collaboration and cooperation with local governments, teaches and advises students interested in local government careers.
UMSL Community Partnership Project Seminar Series
The UMSL Community Partnership Project 'What's Brewing?' series links UM-St. Louis faculty research and practice and promotes sharing of information and ideas on issues impacting St. Louis neighborhoods.  Ask to have your name added to the e-mail distribution list by contacting Claire Wolff.
Contact
Claire Rippel (Wolff), MSW
Community Engagement Specialist,
Community and Economic Development
University of Missouri Extension, St. Louis City
4207 Lindell Blvd, St. Louis, MO 63108
Office: 314-516-6392 | Cell: (314) 400-7287