Community Development
Resident Leadership Development & Community Building
Want to learn the skills necessary to make effective change within your community? These Resident Leadership Infographics and Community Building Worksheets will assist you in finding your community's strengths and resources to organize for change (Asset Mapping) and learn to more effectively engage with neighbors and stakeholders on community initiatives (Community Engagement). These tools were provided through support from the St. Louis Area Violence Prevention Commission.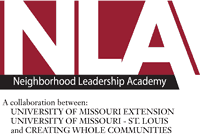 Neighborhood Leadership Academy
Neighborhood Leadership Academy provides hands-on leadership training emphasizing community building principles, organizational leadership and management practices, and personal leadership skills. The program connects resources at University of Missouri-St. Louis (Community Partnership Project, Nonprofit Management and Leadership Program, and MU Extension) to residents and neighborhoods wanting to create more livable communities.
When:
Runs from September thru November annually, 10 Sessions
Where:
University of Missouri St. Louis Campus
Cost:
$425, Scholarships and early bird discounts available. Learn more.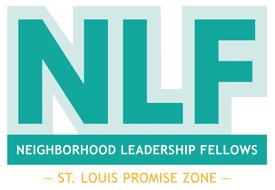 Neighborhood Leadership Fellows Program
Are you interested in joining a board, getting involved in local government, or serving on a state commission? The Neighborhood Leadership Fellows (NLF), is an advanced leadership program through Creating Whole Communities representing a partnership of UMSL, MU Extension, and St. Louis Promise Zone.
NLF aims to increase North St. Louis City and County residents participation in civic decision-making tables in order to produce more equitable regional policies for neighborhoods. Training will consist of one-weekend a month educational workshops, tactical training, positional power trainings, collaborative learning, mentoring and networking opportunities.
Fellows will receive a $2000 stipend and an UMSL Chancellor's Certificate upon completion.
Application closes November 1, each year. Program session dates, topics, and outcomes can be found on the NLF website.
Creating Whole Communities
Creating Whole Communities (CWC), formed in 2014, brings together the University of Missouri–St. Louis, University of Missouri Extension, and the St. Louis region's neighborhoods to focus on strengthening our communities through community development research, neighborhood leadership development, and civic dialogue.
Contact
Claire Rippel (Wolff), MSW
Community Engagement Specialist,
Community and Economic Development
University of Missouri Extension, St. Louis City
4207 Lindell Blvd, St. Louis, MO 63108
Office: 314-516-6392 | Cell: 314-400-7287
STL Community LAB
STL Community LAB assembles community development trainings from a variety of organizations and universities in the St. Louis region onto one organized platform. The mission of the STL Community LAB is to increase participation in the community-building process by educating and supporting all in the quest to build strong, whole communities.
STL Community LAB offers:
A hub for residents and professionals to easily access and participate in high quality courses to build community through topics such as real estate, organizing, and managing a nonprofit organization.
Collaborative new programs, courses, and trainings that provide vital and current community development knowledge.
A way to connect the dots for neighborhood leaders hoping to take their community work to the next level and have a voice in civic decision-making.
Support for residents who are seeking to make the changes they envision for their communities.