Counties Map
East Central MO
Northeast MO
Northwest MO
Southeast MO
Southwest MO
Urban East MO
Urban West MO
West Central MO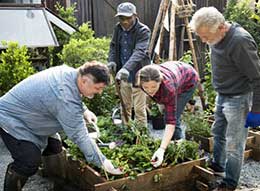 In-depth horticulture training for Missourians who wish to spread their knowledge of gardening.
Master Gardeners
St. Louis Master Gardeners are trained volunteers who enjoying sharing their gardening knowledge with others.
St. Louis Master Gardeners
Horticulture Answer Service
Master Gardeners are in our office every Monday through Thursday from 9 a.m. to 2:30 p.m. to answer all of your plant questions.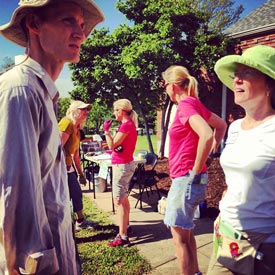 Please stop by, or call us at 314-400-7657 to speak to a Master Gardener during those times.
You can also email

[email protected]

at any time with your plant questions. Note: The hotline is not staffed 40 hours a week, but you will receive a response in a timely fashion.

Please give detailed questions and include pictures. Pictures should be as follows:

Distance shot showing its environment.
Closer shot of just the plant itself.
Up-close shot showing the area of concern.
Close-up and overall view of the plant/tree where it emerges from the soil.

If you have questions about commercial horticulture or soil test interpretations, feel free to contact our horticulturist, Elihu Isele, at 314-400-7388.
Master Gardeners at work
Nathan Brandt (former horticulture specialist) and the St. Louis Master Gardeners were hard at work beautifying the grounds at the Kathy J. Weinman Shelter. The volunteers are transforming the space to provide some comfort for the women and children residing within the facility. This is one example of the partnership MU Extension has with St. Louis County. This began with a phone call requesting help with a flower bed. Do you have community horticulture project that you would like help with? Give Holly a call: 314-577-9442.
Use Tab key to loop through the section below. Press Enter or Space to enter content for each tab button. Press Esc key to exit and to go to the next section at any time.