Healthy communities start in our parks and neighborhoods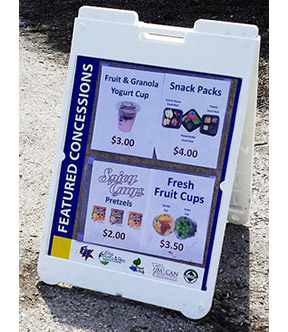 Missouri is blessed with one of the best state park systems in the country, as well as a wealth of municipal parks. While our parks are a valuable resource for children and adults to maintain and improve their health through exercise and recreation, the high-calorie, salty foods served at some parks can quickly negate the benefits of being outside and moving more. Because of the vast number of visitors to Missouri parks every year, simply having healthier food choices available in the parks can go a long way in improving health in Missouri.
Eat Smart in Parks (ESIP) is a statewide effort aimed at promoting healthier eating options in Missouri's state and local parks. This effort includes the development of model nutrition standards that guide parks in serving healthier options, training for state and local parks to assist them with using the guidelines, and materials to promote healthier items. The nutrition guidelines in the ESIP toolkit help to set a standard for the foods and drinks offered in parks, and contain measures that can help boost the availability of healthy choices.
Written in plain language, these nutritional guidelines are designed for park staff and others who are interested in offering tastier, healthy foods. Food groups are broken into categories: Fruits, Vegetables, Grains, Dairy and Proteins as well as Beverages. Recommendations are made for serving sizes, as well as the highest thresholds for fat, sugar and sodium. Moreover, the policy guidelines consider revenues by offering recommendations for signage, display and pricing of items. By adopting these nutritional and marketing standards, Missouri can become a frontrunner in championing great parks, great food and great park experiences.
Check out this ESIP success story below and see the Resources tab for news coverage of ESIP success stories from around the state.
Eat Smart in Parks is a collaborative effort led by individuals from University of Missouri Extension, Missouri Department of Health & Senior Services (DHSS), Missouri State Parks, Missouri Parks and Recreation Association (MPRA), Missouri Council for Activity and Nutrition (MOCAN) and the Health Communication Research Center at the Missouri School of Journalism.