Eat Smart in Parks Toolkit
Editor's note
To order a printed copy of the Eat Smart in Parks toolkit, contact Jollyn Tyryfter.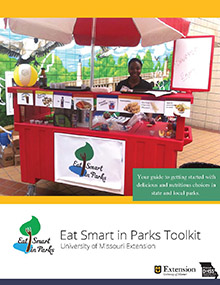 Eat Smart in Parks (ESIP) is a statewide effort aimed at promoting healthier eating options in Missouri's state and local parks. This effort includes the development of model Eat Smart in Parks nutrition standards that guide parks in serving healthier options, training for state and local parks to assist them with using the guidelines, and materials to promote healthier items. Municipal parks across the state have worked with ESIP to offer fresh, flavorful foods to visitors that are good for them, too.
For more information, visit Healthy Concessions.
For resources to use with the toolkit, visit the ESIP Resources page.
Topics
ESIP participants can receive free assistance with a variety of activities including:
Customer research and tailored reports
Menu analysis
Taste tests
Healthy product identification and sourcing
Contract assistance
Marketing materials
Healthy food incentive ideas
Pages