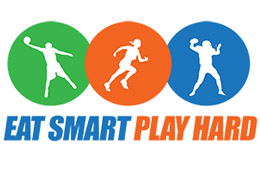 Athletes need to eat well to play their best
Eat Smart, Play Hard (ESPH) is a statewide effort to increase healthy food options in school concession stands. ESPH provides simple tools, informed by four years working with park concessions and input from Missouri school athletic directors, to promote successful sales in school concessions.
The ESPH toolkit is designed to assist parents and schools with making healthy, tasty and affordable options available in a place where students and their families often eat meals during the school year - the school concession stand. We recognize that many school concession operations are organized and staffed by volunteer parents, faculty and/or students with little spare time. So the ESPH toolkit applies simplified and easy strategies developed in parks to school concessions, combined with new tools specific for schools. Although adding healthier options to the concession menu may take a little teamwork up front, the rewards are worth it. Not only does it contribute to the health of Missouri children, but you may find it can lead to increased concession profits, too.
University of Missouri Extension and the Missouri Department of Health and Senior Services work together to help schools and communities make the healthy choice, the easy choice.