Nutrition and health
Stay Strong, Stay Healthy
A strength training class for older adults. Participants participate in twice weekly exercise sessions for 8 weeks building muscle and strength through the completion of 8 basic exercises. There is an advanced version for groups who have completed and mastered the original Stay Strong, Stay Healthy exercises.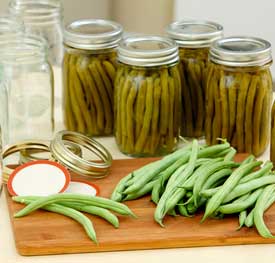 Food Preservation
The goal of this program is to provide participants with a solid foundation in home canning and preserving. Through hands-on classes participants learn how to make jellies/jams, pickled vegetables and salsas, and learn proper pressure and boiling-water canning processes. Classes can be offered as a one-time class focused on one of the techniques listed above or you can schedule a food preservation course made up of 5 distinct lessons.
Food label changes
The FDA published a new food label for packaged food on May 20, 2016. Manufacturers with $10 million or more in annual food sales need to comply on or before January 1, 2020; those with less than $10 million need to comply by January 1, 2021. Read about the important changes you will see and how the changes can help you make healthy food choices. 
Dietary Guidelines
The 2015-2020 Dietary Guidelines focuses on the big picture with recommendations to help Americans make choices that add up to an overall healthy eating pattern. To build a healthy eating pattern, combine healthy choices from across all food groups—while paying attention to calorie limits, too. 
Importantly, the guidelines suggest Americans should consume:
A variety of vegetables, including dark green, red and orange, legumes (beans and peas), starchy and other vegetables
Fruits, especially whole fruits
Grains, at least half of which are whole grains
Fat-free or low-fat dairy, including milk, yogurt, cheese, and/or fortified soy beverages
A variety of protein foods, including seafood, lean meats and poultry, eggs, legumes (beans and peas), soy products, and nuts and seeds
Oils, including those from plants: canola, corn, olive, peanut, safflower, soybean, and sunflower. Oils also are naturally present in nuts, seeds, seafood, olives, and avocados.
Further, Americans should be encouraged to consume:
Less than 10 percent of calories per day from added sugars. ChooseMyPlate.gov provides more information about added sugars, which are sugars and syrups that are added to foods or beverages when they are processed or prepared. This does not include naturally occurring sugars such as those consumed as part of milk and fruits.
Less than 10 percent of calories per day from saturated fats. The Nutrition Facts label can be used to check for saturated fats. Foods that are high in saturated fat include butter, whole milk, meats that are not labeled as lean, and tropical oils such as coconut and palm oil.
Less than 2,300 milligrams (mg) per day of sodium for people over the age of 14 years and less for those younger. The Nutrition Facts label is a helpful tool to check for sodium, especially in processed foods like pizza, pasta dishes, sauces, and soups.
Read more about the 2015-2020 edition of the Dietary Guidelines for Americans.