Services
Canner gauge tests
Testing for dial-type pressure canner lids is available. Dial-type gauges should be tested annually to ensure accuracy and prevent bacterial contamination of preserved foods. (Testing is not necessary for weighted gauges.)
Distance education test proctoring
MU Extension proctors tests for students enrolled in Missouri Online courses.
Plant disease diagnosis
Plant disease, insect and weed diagnosis is available for field crops, ornamentals, vegetables, fruits and turfs.
Private pesticide applicator training
MU Extension provides private pesticide applicator training for producers as required for Missouri Department of Agriculture certification. Individuals must bring a copy of MU Extension publication M87, Private Pesticide Applicator Reference Manual, to the training.
See the private pesticide applicator remote training page or contact the field specialist in your county for details on training being offered via Zoom teleconference or by mail.
Soil testing
Basic soil testing analyzes nutrient content and fertility status. Results include fertilizer and lime recommendations. Additional tests are available for nutrient management plans, environmental issues, potting mixes, compost, manure and water usage. Each sample should contain about 1½ cups of dry soil from 6 to 7 inches deep. Consult the Soil and Plant Testing Laboratory website for specific instructions. Results are typically provided within two weeks.
Soil samples can be brought to our office. While our office is closed to the public, the soil sample can be left on the front porch in a sealed bag with your name and phone number attached. The sample should be dry and the quantity needed is about 2 cups. We will call you to get the remainder of the information needed and to collect payment. The cost is $25 per sample for standard testing.
Another option is to send your sample directly to the MU Soil and Plant Testing Laboratory according to the instructions on their website. There are sample boxes attached to our office front door for mailing samples.
Room Rental
There are two rooms available for rent at our facility. Both are non-smoking and no alcohol is allowed on the premises for your event.
Complete an application/contract and submit for approval during our business hours, Monday - Friday, 8:00 a.m. to 4:30 p.m. When your application is approved, a deposit will be required to reserve a room. You can pick up a key to the room during business hours the day prior to your event and return the key the day following your event. If the room is left clean and in appropriate order, your deposit will be returned when you return the key.
More details are included in the application/contract. Please read carefully.
Room rental application/contract (PDF)
Room rental checklist (PDF)
Room rental flyer (PDF)
Large meeting room with kitchen
Deposit: $200 | Rental fee: $200
Capacity: 150
17 - 8' tables, 100 chairs
Projection screen, WiFi, whiteboard
Refrigerator, stove, oven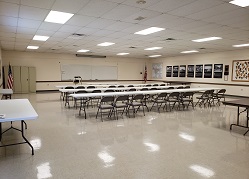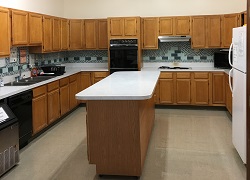 Small meeting room
Deposit: $100 | Rental fee: $65
Capacity: 40 (24 with tables setup)
20 - 6' tables, 38 chairs
Projection screen, WiFi, whiteboard, podium