Selling Strategies for Local Food Producers
Bill McKelvey
Department of Rural Sociology
Program associate with the Community Food Systems and Sustainable Agriculture Program
Mary Hendrickson
Department of Rural Sociology
Director of the Food Circles Networking Project
Associate director of the Community Food Systems and Sustainable Agriculture Program
Joe Parcell
Department of Agricultural Economics
Director of the Missouri Value Added Development Center
For many farmers, marketing and selling their products are the most challenging parts of the farm enterprise, especially when selling directly to consumers. However, direct markets for fresh and unique food products are among the most rapidly growing farm opportunities. People around the country are looking to buy tasty, healthy food directly from farmers — farmers with whom they can talk, ask questions and build relationships. However, these new market opportunities, particularly in farmers' markets, community supported agriculture (CSA), roadside stands, restaurants and cooperatives, require expertise in selling as well as marketing, production and financial management.
In any business, marketing and selling go hand in hand. Marketing describes a range of activities that include deciding what to produce and how to price, distribute and promote a product. Selling, on the other hand, describes the techniques used to entice buyers to exchange their cash for the seller's products. Despite the images that many people hold of pushy "salesmen" who won't take no for an answer, or the "natural-born salesman" who gets people to buy products without much effort, developing strong selling skills is critically important to acquiring and keeping customers in a direct marketing enterprise. And, while many farmers may be intimidated by the idea of selling, it is important to remember that selling skills — just like other skills — can be learned.
The selling techniques described in this guide are customer-friendly and ethical. There is no advice on how to trick or manipulate customers, or how to get customers to buy something they don't really need. Rather, the guide provides practical advice on how to increase sales by building a loyal customer base. The guide is organized around a counselor approach to selling outlined in the book Win-Win Selling (Wilson Learning Library, 2003) and takes readers through the process of
Building relationships with customers
Discovering customers' needs and preferences
Being an advocate for one's products
Providing quality service
While much of the information in this guide is focused on selling at farmers' markets, the tips are appropriate for anyone wishing to sell their products directly to consumers.
Before you start
Selling is just one part of a successful direct-marketing business. Good production skills and superior postharvest handling techniques can ensure high-quality products that command premium prices. Likewise, a thorough knowledge of your farm's financial condition can ensure that you employ the right pricing and advertising strategies to gain the most profit.
Being aware that you are competing with supermarkets and other farmers at your market or in your particular region can also help ensure success. At the end of the day, you want customers to spend more of their dollars with you. This means that you have to constantly improve your skills and look for competitive advantages to keep your business profitable.
Although the topics of product quality, farm financial planning, pricing and merchandizing are beyond the scope of this guide, you can find a host of resources on these topics in the "Resources" section at the end of this publication and through MU Extension publications and county offices.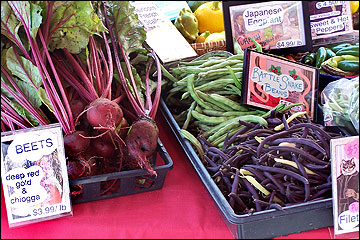 Build relationships with your customers
In any business, building relationships with customers is key. This is even more important in the world of direct marketing. However, building relationships with customers takes time and depends on being personable and paying attention to a few basic details. The following suggestions are offered to help you make a good first impression and begin the process of building a loyal base of customers.
First, pay attention to your personal appearance.
Consciously or unconsciously, customers often base their purchasing decisions on their first impression of you. Be clean, neat, well dressed and well groomed. Dirty clothes and hands, stubbly beards and unconventional tattoos and piercings can all turn off certain customers. This doesn't mean you have to wear your Sunday best when selling. On the contrary, a clean pair of blue jeans and a fresh shirt are acceptable attire for farmers. Also consider wearing a name tag or having your farm logo inscribed on shirts and hats.
Second, engage customers as soon as you can at the market so they don't have the opportunity to go somewhere else.
Always stand rather than sit. Make eye contact with customers and avoid wearing sunglasses if possible. Smile. Say "Hello" and "How are you today?" The idea here is to be inviting and make it easy for customers to visit your stand and get to know you both as a farmer and as a person. When customers do visit your stand, make an effort to learn their names and something about them. This allows you to address them by name and strike up casual conversation when they revisit your stand. When working with chefs, do some homework to learn their names before you make your first sales call. If the market is slow, keep busy by polishing fruit, straightening the stand, or passing out samples, or consider having a partner in front of the stand to draw people in.
Third, be reliable.
Show up on time, keep regular hours and have adequate supplies of your product. It is hard for customers to trust you if they don't know when you're going to be at the market, when you're going to arrive with a delivery, how long you'll be open for business or how much product you'll have. If you are trying to sell to a restaurant, reliability is a key factor in gaining and maintaining your customer. For instance, if a hailstorm wipes out your spinach, or deer season closes down your meat processor, make sure to tell the chef as far in advance as possible that you won't be able to deliver their order. With advance warning, chefs may be able to take the lack of product in stride and still continue to order from you. Without it, you may lose the entire account.
Fourth, share your knowledge about your products and skills.
Customers are often interested in the nutritional value of different foods, how they are grown or processed, or what makes your offerings special. This is especially important if you sell specialty or ethnic products. Customers also appreciate hearing about how your products are used by other satisfied customers.
Fifth, go the extra mile for customers. Offer to carry or cart-out purchases.
Allow customers to leave purchased items at your stand until they've completed their other shopping. Always try to deliver more than the customer expects. Give away something extra or throw in a sample of a new product to regular customers. These and other services demonstrate your commitment to your customers and show them how much you appreciate their business.
Finally, be pragmatic and have a sense of humor
It is guaranteed that you will not satisfy everyone all of the time. Placing reasonable expectations on yourself and others, and being able to laugh at yourself on occasion, will allow you to keep a good attitude and attract customers to your business. Also, if you really don't believe that you are outgoing enough for direct marketing, find someone in your family or hire someone who is. Remember to take the time to educate them about your products and the importance of providing great customer service.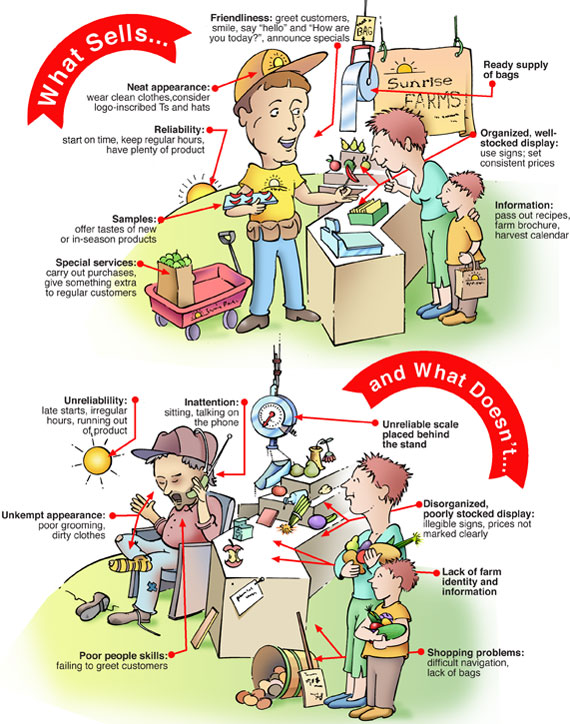 Discover your customers' needs and preferences
Discovering the needs and preferences of customers takes time, patience and a good ear. It also follows naturally from a commitment to building relationships with customers and getting to know them on a more personal level.
For instance, you might arrive at market with a truckload of the best yellow-fleshed watermelon in the county, but if the customers at your market are not familiar with this variety, then you are likely to leave the market with a truckload of yellow-fleshed watermelon.
Finding out what customers want can be achieved in a couple of different ways.
First, when talking to customers, ask questions about their preferences.
For instance, ask questions such as, "Are you looking for anything special today?" or "Are you preparing any special meals this week?" If a family is shopping with their children, ask the kids, "What's your favorite vegetable?" You can also relate your products to the season or upcoming holidays by asking, "Are you planning to do any canning this year?" or "Will you be cooking out for the Fourth of July?" Listen carefully to what customers say. If you are taking orders, restate the customer's order to be sure you heard them correctly. Keep a notepad and pen nearby to record orders, comments and special requests.
Second, do some homework.
Spend time at the library or on the Internet researching the latest consumer trends, particularly by reading lifestyle magazines (e.g., Martha Stewart Living, Oprah, Real Simple). Look for information about the types of products you sell. Stay abreast of the latest developments in direct marketing and farming. This information, along with what you learn directly from your customers, can be used to adjust your product selection to better meet your customers' needs.
Be an advocate for your products
Once you've developed a relationship with your customers and have a good idea of what they're looking for, it's time to match their needs with your products. Your goal here is to create a partnership with your customers rather than try to sell them something they don't need.
Try to find a balance between sharing information about your products and socializing with customers while at the market. Talking about the nutritional qualities of your products or how to store, preserve, and use your products is a great way to promote them. With chefs, talk about the ease of using your products in the restaurant, or their unique flavors and qualities. For instance, you might talk about the rich flavor of your grass-fed meat, or how well your egg yolks hold up when frying them sunny-side up. Keep in mind that while most people are interested in receiving some information, they don't necessarily have the time to sit through a lecture at the market or in the restaurant. Keep the conversation light and friendly. Passing out informational fliers is an additional way to share information.
Sharing recipes is another great way to promote your products, especially if they are new or unique. People are generally interested in simple, seasonal recipes with only a few ingredients. Recipes can be gathered in the off-season and printed on tear-off note pads with your farm logo and contact information.
Offering samples is a great way to introduce new or in-season products. When sampling at a farmers' market, be sure to consult with your local health department or the market bylaws regarding sampling rules. Generally, samples should be fresh and served