How to enroll in a club
Find a 4-H club or create one
Your local County Extension office can help find a club that is right for you or help you create your own! Pick something that interests you and find a willing adult to be your volunteer club leader, and start learning! Each county has an area 4-H youth specialist who will help you in get started and answer any questions.
If you are a teacher or afterschool provider, contact your local 4-H Extension Specialist about school enrichment or club opportunities. We have resources to get you started!
Find a 4-H project
All 4-H Community Club members must be enrolled in at least one project. When you choose a project, you will learn everything there is to know about that topic. You will participate in various hands-on activities, learn new skills, do community service, or even make speeches about your project.
How to choose your 4-H project: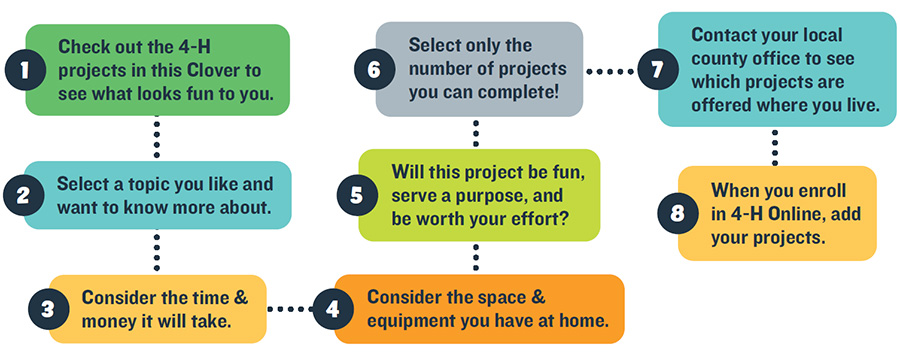 Check out the 4-H projects in the Clover to see what looks fun to you.
Select a topic you like and want to know more about.
Consider the time and money it will take.
Consider the space and equipment you have at home.
Will this project be fun, serve a purpose, and be wroth your effort?
Select only the number of projects you can complete!
Contact your local county officeto see which projects are offered where you live.
When you enroll in 4-H Online
check out the 4-H projects to see what looks fun to you.
Enroll in 4-H Online
Enroll in 4-H Online after you have found a project and club that is right for you! Youth members are required to pay a $20.00 state fee and possibly a smaller county fee upon registration. 4-H adult volunteer are free to enroll. Adults and youth Community & SPIN club members will need to enroll in 4-H Online to be considered active members of Missouri 4-H.
Show/Hide

Healthy Blue Coverage for 4-H Membership Dues

Youth covered by MO Healthy Blue plans may be eligible to have their membership in one afterschool program or club paid by their insurance company. This includes membership fees for 4-H clubs!

Call the Member Services number and request a prepaid card for each child. 1-833-388-1407 (TTY 711) Monday through Friday from 8 a.m. to 5 p.m. CST.
Or, Log in to request the card(s).
Pre-paid card(s) will be mailed to you to use for 4-H enrollment. Enter the card info as you would a credit card.
The county Extension office will review and approve your membership which will then become active.
During the enrollment process, you will be asked to agree to the 4-H Adult and Member Code of Conduct.
What is the 4-H Adult & Member Code of Conduct?
The 4-H Adult & Member Code of Conduct policies protect youth, staff, volunteers, and you! All 4-H participants are expected to not only follow, but enforce these policies with members (and 4-H adults) while participating in 4-H programs and activities. Why? Your local 4-H group is directly connected to the federal government as 4H is the youth development program of our nation's Cooperative Extension System. Plus, the Code of Conduct protect youth and empowers them to THRIVE through Missouri 4-H.
If you have ever created a profile in 4-H Online, you need to use that profile to re-enroll. If you can't remember your log-in, please contact your county office. Please do not create a second profile!
To use 4-H Online to register for an event, an active enrollment is required. Each year on October 1st, all membership in Missouri 4-H goes to inactive and all youth and adult volunteers must re-enroll.
FAQ
Show/Hide

Where do I participate?

You should participate in the 4-H program in the community where you live, whenever possible. If this is not possible, your local 4-H faculty will work with you to develop a plan for 4-H membership. 4-H membership can be moved to another county or state any time of the year. Local requirements for membership in good standing might affect eligibility for participation in county events. A member must choose one club or group for their primary participation and eligibility determination for county events. Members may participate in multiple 4-H groups or programs. Ask your local 4-H faculty if you have questions.

Show/Hide

How old do I have to be?

Your 4-H age determines how you can enroll in 4-H. 4-H age is determined by your actual age on December 31st of the 4-H year. For example, your child may be 12 years old and born on December 17th. If you enroll your child this 4-H year which begins October 1, your child's 4-H age for the entire year will be considered 13 years old since his/her birthday happened by the end of the year.

Clover Kids are ages 5 to 7 and 4-H members are ages 8 to 18. Age requirements may be adapted to meet special needs of the young person or group. For example, accommodations will be made for persons with developmental or physical disabilities.

Show/Hide

Can anyone be a member?

Yes! 4-H membership is available year-round to any youth. There may be criteria for participation in certain events and to access financial support. These requirements may be established by the club, county or state. Financial aid is available, please contact your County Extension office for details.

Show/Hide

When can I enroll?

While the official start of the 4-H year is October 1, you may enroll in county 4-H programs at any time during the program year. However, there may be some state or local deadlines for participation in certain activities or programs. These might include registration deadlines for camps or trips, award and scholarship application due dates, and due dates for participating in special opportunities such as fairs or contests. Consult your local 4-H youth faculty for current information. Youth member and volunteer enrollment in 4-H includes an online process.