Council members are the youth voice of 4-H at the state level.
This picture contains the following people from left to right starting with the back row: Dr. Chadwick Higgins, Mrs. Dell Higgins, Lynn Dyer, Michael Dieckmann, Ethan Vanderwert, Bob McNary, Anna Loucks, Kaitlynn Foster, Dr. Lupita Fabregas. Front row: Caroline Mayes, Mikaela Rojas, Gracen James, Lacy Merriman, Jayden Hansen.
All Missouri 4-H'ers are represented at the state level by the State 4-H Council. Elected from each region at State 4-H Congress, Missouri's State 4-H Council works with county youth liaisons, assists in planning and implementing statewide 4-H programs, gives young people input on 4-H program and policy issues, and works to address the issues and concerns most important to Missouri 4-H youth.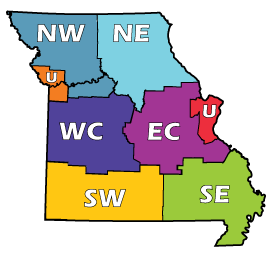 State 4-H Council directory
Executive Council
President — Emily Taylor
Henry County
West Central Region

Vice President — Lynn Dyer
Lafayette County
Northwest Region

Secretary — Lacy Merriman
Cass County
West Central Region

Treasurer — Gracen James
Cape Girardeau County
Southeast Region
Outreach Coordinator — Kaitlynn Foster
St Louis County
Urban East Region
Regional Representatives
Lily Rucker
Franklin County
East Central Region

Isabelle Allen
Moniteau County
West Central Region

Dijon Asket
St. Louis County
Urban East Region

Jayden Hansen
Platte County
Urban West Region
Zoe Engelbrecht
Lafayette County
Northwest Region

Ethan Estrada
Boone County
Northeast Region

Taylor Muench
Cape Girardeau County
Southeast Region

Andrew Shelton
Barton County
Southwest Region
Advisors
Lupita Fabregas
Director, Missouri 4-H Center for Youth Development

Patty Fisher
Retired 4-H Specialist, Interim Advisor

Penny Kittle
County Engagement Specialist, Sullivan County

Erin Stanley
State 4-H Leadership & Civic Engagement Educator
Joyce Taylor
Congress Coordinator