Missouri 4-H Foundation Scholarships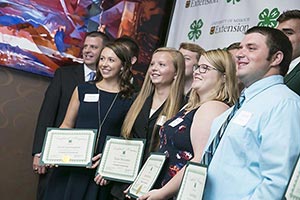 The Missouri 4-H Foundation offers educational scholarships for 4-H youth and former 4-H members pursuing post-secondary study.
More than sixty scholarships are available, each ranging from $500 to $2,500. One scholarship application allows the applicant to be considered for any available scholarship, subject to the conditions specified by the donor.
Applications are accepted after January 1 and are due with a postmark date of March 1 to the state 4-H office. The county due date for applications may be earlier than the March 1 state deadline. After county approval and signature, your application will be mailed to the Missouri 4-H Foundation office at 109 Whitten Hall by your county.
Scholarship guildelines
Applicants must have a grade point average (GPA) of 2.5 on a 4.0 scale unless otherwise defined by the scholarship donor. Home-schooled high school students must submit ACT or SAT scores.
The scholarship must be used within nine months after it is awarded. (Applicant must be enrolled in school).
A word processor must be used to complete the application. Use plain white 8 1/2 x 11" paper with 1-inch margins. Use a font no smaller than 12-point. Single-spaced within each answer and double-spaced between questions.
Scholarship forms
Scholarship applications will be accepted beginning Jan. 1, 2021.
Scholarship selection criteria
The Missouri 4-H Foundation scholarship application form should be completed and must include:
Signature of applicant and 4-H/Extension staff
High school/college transcripts (must include GPA and can be unofficial) or ACT/SAT scores for home-schooled youth
Financial information page completed by parent/guardian
A committee determines scholarship selection based on the following score system, unless otherwise defined by the scholarship donor:
70 percent 4-H achievement
20 percent financial need
10 percent career goals
Financial need scoring is determined as follows:
1 point for each dependent child under the age of 21 in the family
2 points for each family member attending college
Adjusted gross income:


10 points for $25,000 and under
7 points for $25,001 to $40,000
5 points for $40,001 to $55,000
2 points for $55,001 and above
For questions regarding Missouri 4-H Foundation scholarships, contact the Missouri 4-H Foundation office or call 573-882-2680.