Camden Century Farms
Search for Missouri Century Farms starts February 1
To qualify, the same family must have owned the farm for 100 consecutive years. The line of ownership from the original settler or buyer may be through children, grandchildren, siblings and nephews and nieces, including through marriage or adoption. The farm must be at least 40 acres of the original land acquisition and make a financial contribution to the overall farm income.
Visit the Missouri Century Farms page to learn more and apply.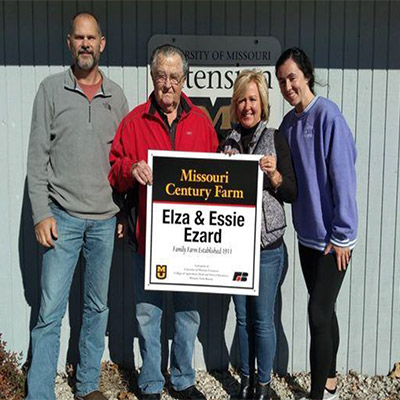 2020 Century Farm Family
We are pleased to announce that Ty Dinsdale of Linn Creek, Mo. is this year's Century Farm in Camden County.
Mr. Dinsdale has a 229-acre farm. Mr. Dinsdale's grandfather, Elza James Ezard, purchased the farm on January 9, 1911. They will be recognized at the Camden County Extension Council's annual dinner in 2021.
Show/Hide

Camden County Century Farms

2020
Elza and Essie Ezard
2017
William T, and Tori Carnes
2016
Chris and Devonna Francis
Hazel and Gregg Sellers
2015
Jerry and Jennifer Francis
William and Sandra Willoughby
2012
Malcolm and Joan Osborn
2011
Clyde and Georgia Gideon
Chris and Diane Franklin
2009
John C. and Charla Green
2008
Ralph Caviness
Jerry Powell
2007
Charles D. Franklin
2004
John Robert Hix
James A. and Janet Hopkins
Frank N. Miller
2003
Robert M. and Marian R. Wyper
2001
Bobby L. and Barbara A. Brown
1999
Roy and Lillian Cunningham
James E. and Mary Ann Roberts
1998
Ruth Evington, Sue Evington and Nancy Evington Johnston
1997
William and Erick Creach
1993
Kenny and Traci Selby
1988
Mr. and Mrs. B.W. Howard
Marjorie Eldred North
Rubin Karl Stoufer
Tommy Wallis
Mr. and Mrs. Roy Whitworth
Von D. and Marga Young
1987
Gerald and Ronald Keller
Clyde E. Hannebrink
Cletus Wilburn Hahs
Mr. and Mrs. Kenneth Brown
Earl E. Aufdenberg
1986
Roy W. Mcguire
Mr. and Mrs. Marvin Ludwig
Glen S. Kinder
Emil and Juanita Exler
1976
Grover Sachse
Mrs. Roberts L. Crites