Can-Do Recipes: Canned Pineapple
Editor's note
The following abstract describes a publication that is intended for print distribution. Please see ordering information on this page.
Caroline Sicht
HES Extension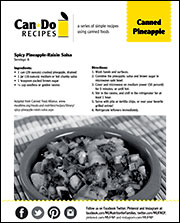 Consider cooking with canned pineapple using the easy-to-prepare recipes included in this four-page flier. Readers will find simple recipes for such foods as Hawaiian Grilled Cheese and Spicy Pineapple-Raisin Salsa, as well as a list of measurement equivalents and a glossary of common cooking terms.
Topics
Nutrition
Pineapple
Recipes
Healthy recipes
Cooking tips
SNAP
Eating on a budget
Pages