Can-Do Recipes: Canned Cranberries
Editor's note
The following abstract describes a publication that is intended for print distribution. Please see ordering information on this page.
Caroline Sicht
HES Extension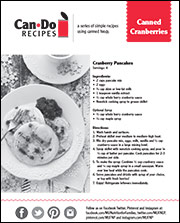 This four-page flier provides simple recipes using canned cranberries for foods such as Cranberry Pancakes, Cran-Apple Crisp and Cranberry Oatmeal Bars. Readers also will find directions for substituting homemade cranberry sauce in the listed recipes along with a glossary of selected cooking terms.
Topics
Nutrition
Cranberries
Canned food
Recipes
Healthy recipes
Cooking tips
SNAP
Eating on a budget
Pages