Can-Do Recipes: Green Beans
Editor's note
The following abstract describes a publication that is intended for print distribution. Please see links to ordering information on this page.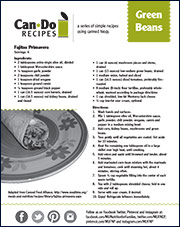 Easy-to-prepare recipes using canned green beans as the main ingredient are displayed in this four-page flier. Additional cooking and preparation tips, measurement conversions, safety measures and a glossary of cooking terms are also included.
Topics
Canned food
Food pantry
SNAP
Green beans
Recipes
Healthy eating
Food preparation
Cooking tips
Pages