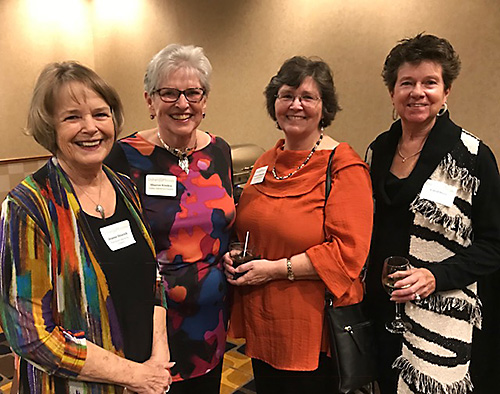 Please consider making a tax-deductible donation in support of [email protected]'s future. Donations help our organization better serve its membership, keep fees affordable and solidify the future of Osher's programming and mission. For a list of our current donors, please see below.
It's easy to support [email protected]!
Pick a donation level. Any one-time gift above $10 qualifies you as a Friend of Osher. Move up to the $500 level to join the Osher Advocates.
Give online. Online giving generally takes less than five minutes. Once you click the DONATE button, you will type in the donation amount as well as your contact information and credit card information on MU's secure system. There's also an option to set up monthly automatic donations.
Give by mail. Mail your check, payable to "University of Missouri," to
[email protected]
1110 S College Ave
Columbia, MO 65201

In the MEMO field, please indicate that your gift is for [email protected] If it is a tribute, please specify the name of the person you'd like to honor.

Give in other ways. If you are interested in contributing in other, even more substantial or specific ways, such as creating an endowed lecture series or another endowed program, we would love to meet with you to explore ideas.
If you would like more information, contact [email protected]. You may also request a confidential conversation about options by contacting the office of MU Extension Advancement.
2019 Business sponsors
Osher program sponsors


2019 Trivia Night sponsors
Central Trust Company
Columbia Convention and Visitors Bureau
Columbia Insurance Group
Convergence Financial
P&D Electric, Inc.
Osher members who support our continuing-education program at the level of $500 or more per year qualify as OSHER ADVOCATES. Please consider joining this group that allows the program to thrive and continue to grow, while keeping Osher membership fees affordable. We appreciate their leadership and generosity!
Tom and Barbara Bender*
John and Patti Blakemore*
James and Anne Campbell
Robert and Barbara Churchill*
Gloria Crull
Carolyn Dye*
Jeanne Dzurick
William B. Fisch*
Anne and David Gifford*
Dave and Nancy Griggs
Beverly Kabrick*
Sharon Kinden*
Hanna and David Klachko
Greg and Gail Luce
Carol A. McAllister*
Jack and Terry Meinzenbach
Georgia Morehouse*
Jerry Murrell*
John Parker
Von and Joyce Pittman*
Michael and Rose Porter*
Neil and Lyanne Riley*
Sally Silvers*
Gary and Beth Stangler*
Jim and Kathy Tunink
Curt Vogel
George and Helen Washburn*
Jack Wax*
Nan Wolf*
* These generous donors gave foundational gifts that established the Osher Advocate program, and are known as FOUNDERS. Thank you for your leadership!
2019 Friends of Osher
Special thanks to the FRIENDS OF OSHER, who have provided support through monetary contributions above their registration fees ($10 to $499).
Kathryn Allen
Barbara C. Ball
Don and Joan Bay*
Nerma Bennett
Robert and Cokie Blake
Danielle and Richard Blanck
Betty Bluedorn
Carol Braaten
Linda Bradley
Nancy Burke
Fortune Campbell
Charlene Carnes
Rosemary Christensen
Thomas Dillingham and Judith Clark*
Gary Coles
Jackie Craig
Julia Cramer
Mark and Susan Dickinson
Meredith Donaldson
Fred Erickson
Phyllis Evans
Barbara Favazz
Theresa Ferrugia
Lawrence M. and Aileen R. Garvin*
Joseph and Jessica Giacchi
Bill Goodson
Olive Graham
Frank and Kathy Green
Nancy Griffin
Gregory Grinch
Maureen Hayes
Joanne Heisler
Kay Henderson
Michael Hess
Maurine Hall-Hildebrand
Allen and Marian Hjelmfelt
Leon Hoskins
Tom and Stacie Houston
Carol Hughey
Wanda Hunker
Janet Jackson
Kaye King
Sandra Knight
Pauline Landhuis
Evelyn Lansche
Brenda Lawson
Tom Lhamon
Kay Libbus
Lois Long
Joan Luterman
John Madras
Steve and Martha Matthews*
Elaine McDannold
William and Doyne McKenzie
William Mees
Steven and Teri Miller
Ruth Miluski*
Donald Mueller
Bob and Bonnie Mullen
Karen Neely
Mary Nesladek
Marilou Oliver
Claude and Lena Pecquet
James Preston, Jr.
Donna Reed
Jon Rhodes
Karen Ridge
Deborah Rogers
Joyce Sandin
Mary Sandy
Birgit Scherer-Wiedmayer
Barbara Schneider
Deborah and Marc Scholes
Sarah Seat
Valerie Shaw
Karl and Mahree Skala
Beverly Smull*
Joyce Snow
John Stewart
Sue Tillema
Wynn Volkert
Jo Ann Wait
Llona Weiss
Lanelle Young
Elizabeth and Ken Zindle
* These generous donors gave foundational gifts that established the Osher Advocate program, and are known as FOUNDERS. Thank you for your leadership!
Make charitable contributions from your IRA
For those aged 70-1/2 or older, it is possible to make tax-favored charitable gifts from traditional and Roth IRA accounts. A total of up to $100,000 can be transferred directly from traditional or Roth IRAs to one or more qualified charities, such as the University of Missouri, free from federal income tax each year.
There may also be state income tax savings. Amounts given in this way count toward required IRA minimum withdrawal amounts for the year of the gift.
If you are ready to make a charitable IRA rollover to [email protected]:
Contact your IRA provider as soon as possible to initiate the rollover.
Contact the MU Office of Gift Planning and Endowments to alert the university to receive the rollover.
Call 1-800-970-9977 or email [email protected].