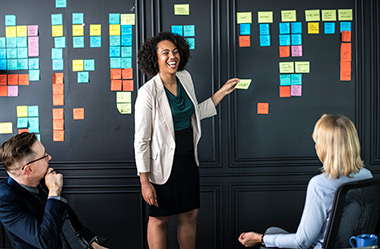 Custom training planning
Looking for innovative ways to improve your business's performance and results? We offer customized services in the following areas:
CliftonStrengths 34
The CliftonStrengths 34 assessment gives you that "aha" moment of what makes you so unique. As Gallup certified coaches, MTI faculty can help you fully understand your CliftonStrengths profile and help you make the most of your unique talents and strengths. It's time to name, claim, and aim your strengths toward success.
Emotional Intelligence EQ-i 2.0
Understanding your own emotional intelligence (EI) is a crucial first step in leadership self-awareness. Your EI helps you manage your moods, temper your reactions, overcome obstacles, manage stress and establish effective and healthy working relationships. Working with a certified coach, take the EQ-i 2.0 assessment and explore how the 5 composite and 15 subscales define your emotional intelligence and identify strategies to enhance your results when leading or working with others.
Executive and Professional Coaching
You are the expert on you. A coach just asks the right questions to create awareness and generate action. By facilitating that learning, you can focus on improving performance to develop and sustain new perspectives, skills, and behaviors. Engage with an MTI coach on your journey to leadership or professional greatness.
Meeting Facilitation
The average meeting lasts ninety minutes, has no written agenda, and its purported purpose is completed only 50% of the time. An effective meeting facilitator can increase the chances your attendees walk away feeling informed, energized, and accountable. Let MTI's skilled faculty work with you to plan and facilitate your next meeting.
Thomas-Kilmann Conflict Mode Instrument TKI
Because no two individuals have the same expectations and desires, conflict is a natural part of our interactions with others. In conflict, we can observe behavior along two dimensions: (1) assertiveness, the extent to which a person attempts to satisfy their own concerns, and (2) cooperativeness, the extent to which they attempt to satisfy the concerns of others. The Thomas-Kilmann Instrument is designed to measure a person's behavior in conflict situations. As TKI certified coaches, MTI faculty can interpret, provide feedback, and help you gain insight about your approach to handling conflict.
Training & Development Systems
For almost 40 years, Missouri Training Institute has been educating and training thousands of professionals across the state and country. Let our qualified faculty partner with you to design and create curricula or organizational training and development systems that advance the knowledge, skills, and abilities of your employees.