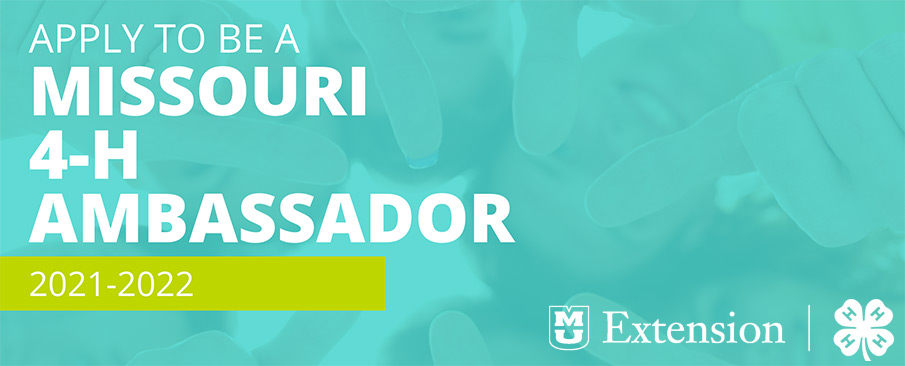 What is the Missouri 4-H Ambassador Program?
To better invest in the leadership development of our 4-H teens at a State Level, we have created a new opportunity for 4-H'ers 14-18. These teens will represent Missouri 4-H throughout the year at county, regional and state events. The goal of this leadership opportunity is to give them opportunities that will help them build skills required for elevated leadership positions like the State 4-H Council and future career paths.
Teen Conference
To prepare Ambassadors for their responsibilities, they will attend the Ambassador Workshop February 11-13, 2021. During the Ambassador Workshop, participants will take part in an immersive leadership experience with guest speakers, team-building activities and more. They will also plan and practice their workshops for Teen Conference.
How to Apply
Applications will be open from May 31st to June 30th, 2021. Eligible youth can apply by going to the Missouri 4-H Ambassador Application "Event" in 4-H Online. Only youth 14-18 will be able to see the registration are eligible. Up to four youth from each region will be selected. Once submitted, each registration will be sent to the County office for the 4-H Professional to complete a brief recommendation before approving it for State review. Applicants must be available for both Teen Conference and Ambassador Workshop as these are the main components of their experience.