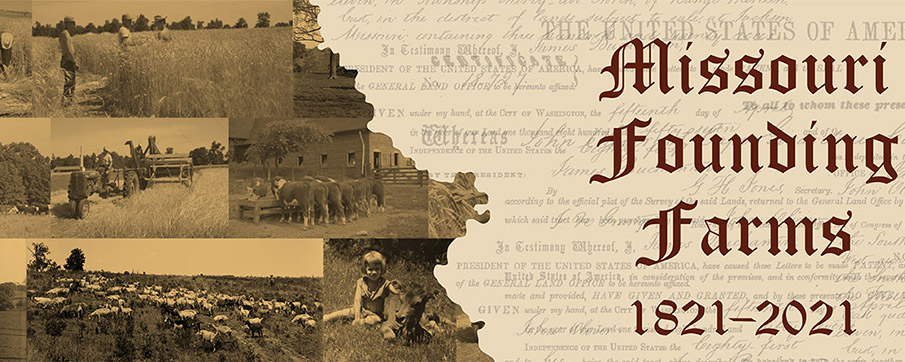 Casner Farm
Watch this interview with Kevin Casner, sixth generation owner of Casner Farm, about the history of the farm and the MU Extension services that have helped them adapt and grow.
Watch now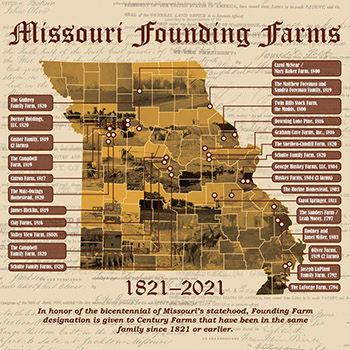 Click map to see larger version
In the year of our state's bicentennial, 2021, we celebrated the generations of farm families who have helped build Missouri over the past two centuries. As part of the Century Farm program in 2021, we recognized a special category of 30 Founding Farms — Century Farms that have been in the same family continuously since 1821 or earlier.
Even before the declaration of statehood, farmers were here tilling the soil, harvesting trees, and floating lumber down our great rivers to build the communities that were taking root on the far western edge of the new nation's frontier.
From those first farm settlements to today's enterprising operations that continue our state's proud agricultural, ranching and entrepreneurial traditions, farm families have been essential to Missouri's and our nation's growth.
We recognize the following Missouri Founding Farms and families.
1792
Original owners: Joseph LaPlante
Farm name: Joseph LaPlante Family Farm
Current owners: L.F. LaPlante Jr. and Ruth E. LaPlante Hahn
County: New Madrid
Original owners: Joseph LaPlante
Farm name: Joseph LaPlante Family Farm
Current owners: George W. LaPlante Estate
County: New Madrid
Original owners: Joseph LaPlante
Farm name: Joseph LaPlante Family Farm
Current owners: Clifford LaPlante
County: New Madrid
1794
Original owners: Pierre Antoine LaForge
Farm name: The LaForge Farm
Current owners: Mary Eva Hunter, Olivia Hunter, David Luke Hunter
County: New Madrid
1797
Original owners: Lewis and Catherine Coteaux
Farm name: The Sanders Farm | Leah Morey
Current owners: Charles H. Sanders and Leah Morey
County: Perry
Early 1800s
Original owners: Ansalom Fulcher
Farm name: Valley View Farm
Current owners: Norma Porter and Norma J. Porter
County: Moniteau
1800
Original owners: Unknown
Farm name: Twin Hills Stock Farm — The Mudds
Current owners: Laura C. Mudd, Gary O. Mudd, Terry P. Mudd
County: Lincoln
Original owners: Thomas and Lucretia Baker
Farm name: Carol McNear | Mary Baker Farm
Current owners: Mary Baker
County: Sullivan
1803
Original owners: John Miller
Farm name: Rodney and Janet Miller
Current owners: Rodney and Janet Miller
County: Cape Girardeau
Original owners: Michael Horine
Farm name: The Horine Homestead
Current owners: John and Norma Horine and Rob Horine
County: Washington
1804
Original owners: Peter Huskey
Farm name: George Huskey Farms LLC
Current owners: George M. George Huskey Farms LLC and George Huskey Farms LLC; George Michael Huskey, George W Huskey, Frank Huskey, Charles Huskey, John Huskey and Peter Huskey
County: Jefferson
Original owners: Unknown
Farm name: Huskey Farms
Current owners: Oliver and Bernice Huskey
County: Jefferson
1811
Original owners: William Harrison
Farm name: Carol Springer
Current owners: Carol Springer
County: Crawford
1816
Original owners: Jonas Casner
Farm name: Casner Family
Current owners: Ervin Lee Casner Trust and Ronnie Casner
County: Carroll
1816 (continued)
Original owners: Ezekiel Downing
Farm name: Downing Lone Pine
Current owners: Louie B. and James Downing and Dan Downing/Judy Collins
County: Lincoln
Original owners: Jeremiah Clay
Farm name: Clay Farms
Current owners: Dorsey Clay
County: Moniteau
Original owners: Robert Graham
Farm name: Graham Cave Farms Inc.
Current owners: Graham Cave Farms Inc.
County: Montgomery
1817
Original owners: Minatree E. Catron
Farm name: Catron Farm
Current owners: M. E. Catron and Bess Catron, Heirs: Eugene and Robert Catron
County: Lafayette
1819
Original owners: John Oliver
Farm name: Oliver Farms
Current owners: Mary Oliver Kuhnmuench, Barbara C. Oliver, David Arthur Oliver Jr. and Anne Bearden Oliver
County: Cape Girardeau
Original owners: Unknown
Farm name: Linhorst Farm
Current owners: Lloyd Linhorst
County: Jefferson
Original owners: James Hicklin
Farm name: James Hicklin
Current owners: Marcia Hicklin
County: Lafayette
Original owners: Aaron Foreman
Farm name: The Matthew Foreman and Sandra Foreman Family
Current owners: Allen B. Foreman and Gerald D. Foreman
County: Ralls
Original owners: John A. Campbell
Farm name: The Campbell Farm
Current owners: James A. Campbell, Marsha Campbell and David Campbell
County: Ray
1820
Original owners: Unknown
Farm name: Dorner Holdings LLC
Current owners: Mrs. Ben Glaze and Dorner Holdings LLC
County: Carroll
Original owners: Unknown
Farm name: The Campbell Family Farm
Current owners: Ruth A. Campbell
County: Cole
Original owners: Jurgen Linnemann and Johann Linnemann
Farm name: Schulte Family Farm
Current owners: Dale A. Schulte and Anita Schulte
County: Gasconade
Original owners: James Muir and George Muir
Farm name: The Muir-Owings Homestead
Current owners: Donald G. Owings and Reba O. Owings
County: Lafayette
Original owners: Lambert W. and Elizabeth Schulte
Farm name: Schulte Family Farms
Current owners: Allen and Karen Schulte
County: Miller
Original owners: William Snethen
Farm name: The Snethen-Cundiff Farm
Current owners: Wayne Overkamp and Rhonda Overkamp
County: Montgomery
Original owners: Isaac Kile
Farm name: The Guthrey Family Farm
Current owners: Guthrey Heirs and Kile Farm
County: Saline