Livestock information
Beef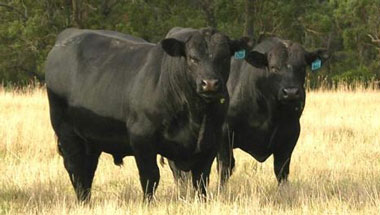 Artificial Insemination Breeding Barns
AI breeding barns are a tool to make it easier for the producers to implement Timed AI technology. To see a list of barns in your area, check out the Breeding Barn page on the NEMO Beef website.
Beef Cattle Improvement - Performance Tested Bulls
The beef cattle improvement program offers cattle breeders the opportunity to improve their herds, in both quality and growth, through breeding and selection. The phases of this program are used to check each animal's performance from birth until it is added to a herd or slaughtered.
SMS Heifer Program
The Show-Me-Select® Replacement Heifer Program is focused entirely on Missouri's farmers and is dependent upon active participation from regional extension livestock specialists and local veterinarians, each of which are critical components of the agricultural sector of this state. This program is unique in that it is first and foremost, an educational program targeted at improving production efficiency through increased use of existing technology, coupled with the marketing component.
NEMO Beef Cattle Improvement Association
Sheep
Using Ultrasound to Pregnancy Check Sheep
Ultrasonic sound waves are a harmless way to pregnancy check ewes. MU Extension publication G2610, Sheep Pregnancy Checking by Ultrasonic Sound, gives basic information on managing your ewe flock.
Poultry
Top Money-Saving Practices on Missouri Poultry Farms
Implementing energy-efficient measures recommended in an energy audit can help poultry operations realize substantial energy and monetary savings. MU Extension publication G1977, Top Money-Saving Practices on Missouri Poultry Farms, gives tips on lighting, heating, insulation and more to help the poultry producers maximize efficiency in poultry operations.
Small Flock Series: Brooding and Growing Chicks
Starting a flock of chickens can be easier with tips from MU Extension publication G8351, Small Flock Series: Brooding and Growing Chicks. This three-part series discusses managing chickens for small farm production and includes information on housing, feed management, disease prevention and more.