Department of Nutritional Sciences
Editor's note
The following abstract describes a publication that is available for purchase and download.
Currently this product is only available for download but will be available for purchase soon.
This set of cards is intended for use with children ages 4 to 15. The cards are divided into groups moderate to vigorous activities, warm-up activities and cool-down activities and labeled accordingly. Activities are also grouped by the amount of space they require to perform, a large space or a small space. Each 5 x 8-inch card includes a tip for how the activity can be integrated into nutrition education.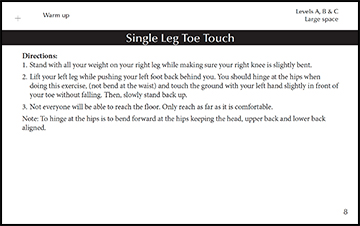 Sample card.

Topics
Pages