Eat Smart, Play Hard Concession Stand Toolkit
Editor's note
To order a printed copy of the Eat Smart, Play Hard Concession Stand Toolkit, contact Jollyn Tyryfter.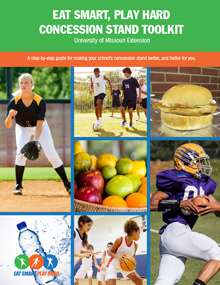 This toolkit is designed to assist parents and schools with making healthy, tasty and affordable options available in a place where students and their families often eat meals during the school year - the school concession stand.
The goal of this toolkit is to help you provide tasty, affordable options for youth in school concession stands to help them eat smart and play hard. We recognize that many school concession operations are organized and staffed by volunteer parents, faculty and/or students with little spare time. So the Eat Smart, Play Hard toolkit applies simplified and easy strategies developed in parks to school concessions, combined with new tools specific for schools. Although adding healthier options to the concession menu may take a little teamwork up front, the rewards are worth it. Not only does it contribute to the health of Missouri children, but you may find it can lead to increased concession profits, too.
For more information, visit Healthy Concessions.
For resources to use with the toolkit, visit the ESPH Resources page.
Topics
Why healthy concessions?
Proven steps to make your smart concessions a success
What to sell tip sheet
Eat Smart, Play Hard poster
Sample menu
School concession assessment tool
Sample voting form
Sample taste test form
Sample email to school & community decision makers
School policy
Pages