Identifying Grass Seedlings
Tall fescue (Festuca arundinacea)
Perennial grasses
Description
Tall fescue is a clump-forming, cool-season perennial without rhizomes. Although a valuable forage and turfgrass species, it frequently escapes cultivation. The plant may reach 4 feet in height if left unmowed. The ligule is a short membrane, and its auricles are generally less developed and blunt. The dark green leaves lack hair and are coarse, with prominent parallel veins.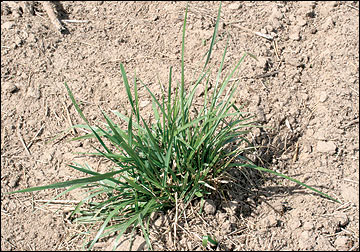 Mature tall fescue: clump-forming without rhizomes.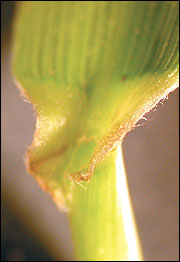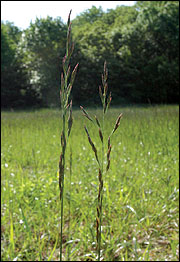 Collar region: blunt auricles; short, membranous ligule.
Right, seedhead.

Habitat
Tall fescue may be found in many settings, including fields, nurseries and landscapes. It is not common in cultivated fields.
Distribution
Tall fescue is common throughout the United States. In Missouri, it is common throughout the state except in the Mississippi lowlands of southeast Missouri.
Similar species
Quackgrass, similar in its coarse texture, has well-developed auricles and rhizomes. Ryegrasses have longer auricles and smooth blade texture.