Missouri Farm to School Guide for PreK–12 Educators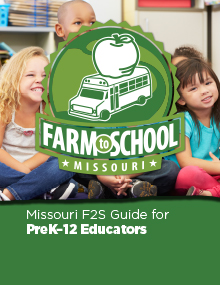 In Missouri, Farm to School (F2S) is a voluntary program with three core elements: (1) school procurement of fresh foods from local farmers; (2) education in food, agriculture, health, and nutrition; and (3) edible school gardens with hands-on learning activities.
This publication is designed to help Pre-K–12 educators get involved with Farm to School.
For more information, visit the Missouri Farm to School website.
Topics include:
Introduction to Farm to School
Hands-on Teaching with Missouri Grown Products
Collaborating
Resources
Pages