Missouri Farm to School Report FY2018-2019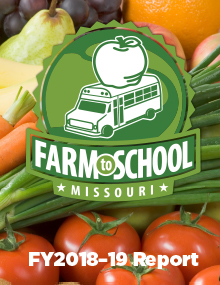 Farm to School (F2S) is any activity connecting schools to local food and farms. The main goals of F2S are to serve fresh, high-quality, locally grown food in school cafeterias; to provide agriculture, health and nutrition education; and to support local and regional farmers. There are many names for F2S: "farm to fork," "seed to table," or "field to fork." No matter the name, projects like these have one main goal: to serve fresh, high quality, locally produced foods in meals and snacks.
In 2014, the Missouri Legislature created a Farm to Table Program "to connect Missouri farmers and schools in order to provide schools with locally grown agricultural products for inclusion in school meals and snacks and to strengthen local farming economies." The target for the voluntary program: Institutions in the state would purchase 10% of their food from Missouri sources.
This report covers the state of Missouri F2S for FY2018-19.
For more information, visit the Missouri Farm to School website.
Topics include:
Farm to School background
Missouri by the numbers
Farm to School challenges and opportunities
Success stories
Contacts and resources
Pages