Missouri Farm to School Guide for School Food Nutrition Professionals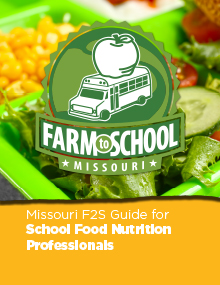 In Missouri, Farm to School (F2S) is a voluntary program with three core elements: (1) school procurement of fresh foods from local farmers; (2) education in food, agriculture, health, and nutrition; and (3) edible school gardens with hands-on learning activities.
This publication is designed to help school food and nutrition professionals get involved with Farm to School.
For more information, visit the Missouri Farm to School website.
Topics include:
Introduction to Farm to School
Purchasing Missouri grown products
Food safety and handling
Learning resources
Pages