Soil Sample Information for Commercial Fruits, Vegetables and Turfs
Editor's note
This publication is a fillable PDF. Select the "Download this publication" button and save the form to your computer. Then either fill it in using Acrobat Reader and print it to send with your samples, or print it and fill it in by hand.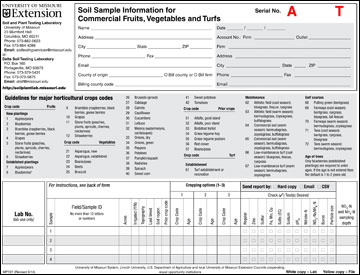 This form is for those who grow commercial fruits, vegetables and turfs. To have your soil analyzed by the MU Extension Soil and Plant Testing Laboratory, follow the sampling instructions and guidelines to complete this information sheet.
Topics
Alfalfa
Apples
Apricots
Asparagus
Athletic field
Beans
Beets
Bentgrass
Bermudagrass
Birdsfoot trefoil
Black berries
Blueberries
Bluegrass
Boron
Brambles
Broccoli
Brussels sprouts
Buffalograss
Cabbage
Calcium
Cantaloupes
Carrots
Cauliflower
Cherries
Commercial sod
Cool season
Copper
Cucumbers
Established plantings
Establishment
Estimated CEC
Fairways
Fertilizer recommendations
Fescue
Fruits
Golf courses
Goose berries
Grapes
Grass
Hay
Iron
Legume
Lettuce
Lime recommendations
Low maintenance turf
Magnesium
Maintenance
Manganese
Melons
Missouri soil regions
Nectarines New plantings
Nitrate-N test (NO3-N)
Onions
Organic matter
Pasture
Peaches
Pears
Peas
Peppers
pH
Phosphorus
Plums
Potassium
Potatoes
Prior crops
Pumpkin
Putting greens
Radishes
Raspberries
Red clover
Renovation
Ryegrass
Soluble salts (electrical conductivity)
Spinach
Squash
Stone fruits
Strawberries
Sulfur
Sweet corn
Sweet potatoes
Tall fescue
Tees
Tomatoes
Turf
Vegetables
Warm season
Watermelons
Zinc
Zoysiagrass
Pages