High Tunnel Tomato Production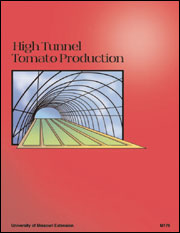 Editor's note
The following abstract describes a publication that is only available as a downloadable PDF.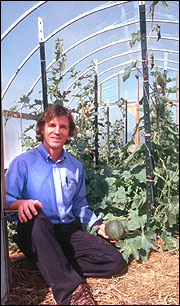 A high tunnel is a solar-heated, plastic-covered greenhouse with no electrical or automated ventilation. High Tunnel Tomato Production from MU Extension shows you how to use high tunnel technology to extend the production season for tomatoes roughly from March through October in the Midwest.
This densely illustrated publication provides detailed information on high tunnel construction and orientation, temperature management, cropping systems for tomatoes, pest management, and the economics and marketing of high tunnel tomatoes. Based on experience with a continuing high tunnel research project at MU, this publication presents valuable guidance on mulching and irrigation, transplanting, training and pruning of tomato plants, as well as variety selection, troubleshooting tomato problems in a high tunnel, and harvest and postharvest handling of tomatoes. An appendix lists sources of supply for high tunnel kits, drip irrigation supplies, tomato seed, and biological pest controls.
The publication is intended primarily for commercial growers who wish to produce two tomato crops a year. Other warm-season vegetables can be grown in a high tunnel.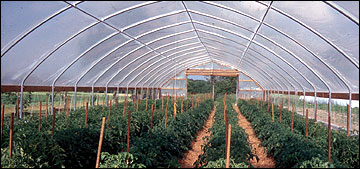 Topics
Peppers
Summer squash
Cucumbers
Melons
Herbs
Eggplant
Snap or pole beans
Pages
28