Identifying Grass Seedlings
Quackgrass (Elytrigia repens)
Perennial grasses
Description
Quackgrass is a rhizomatous grass that can form dense colonies. It can grow more than 3 feet high but will withstand close mowing. The leaves are rolled in the bud with a rough texture and are flat and thin. They may have short hairs or be hairless. The leaves are 3–6 mm wide, and the ligule is a short membrane. The sheath is round to flat and short and hairy. Auricles are present.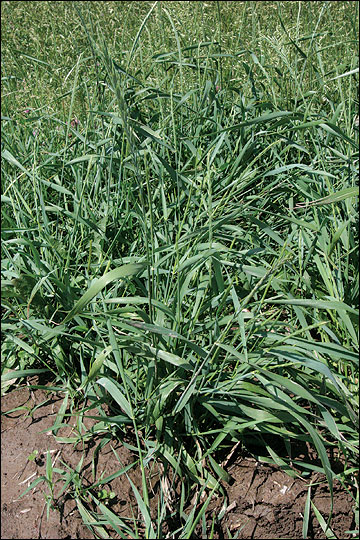 Mature quackgrass.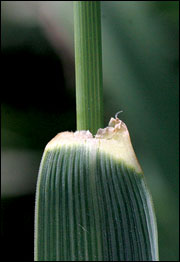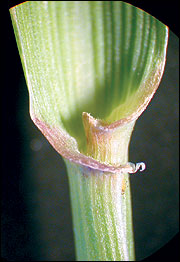 Short, membranous ligule.
Right, auricles.

Habitat
Quackgrass may be found in pastures, fencerows, gardens, rights-of-way, cultivated fields and lawns, as it tolerates close mowing.
Distribution
A native of Europe, quackgrass is more common and problematic in the northern United States and Canada. It is scattered in Missouri, primarily north of the Missouri River.
Similar species
The ryegrass species as well as tall fescue have auricles, but neither of these species also possesses rhizomes.