Counties Map
East Central MO
Northeast MO
Northwest MO
Southeast MO
Southwest MO
Urban East MO
Urban West MO
West Central MO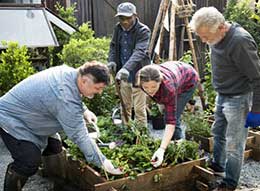 In-depth horticulture training for Missourians who wish to spread their knowledge of gardening.
Master Gardeners
The mission of the University of Missouri Extension Master Gardener volunteer program is to provide horticultural information and education to the gardening public based on proven research specific to the local climate, soils, and plants.
In 2014, Master Gardener volunteers answered more than 1227 hotline calls and served 66 people at an "in-person" answer desk at River Market Extension Office location. The Speaker Bureau gave 26 talks to community organizations which were attended by 350 participants. The talks provided unbiased, research-based information on home gardening topics.
The 301 Master Gardeners contributed more than 19,536 hours of volunteer service with an equivalent dollar value of $413,577* (* Based upon Independent Sector's estimated Missouri value for volunteer time for 2013 was $21.17 per hour). A total of 25 new Master Gardener volunteers were trained in 2014.
The Master Gardeners are increasingly involved with the Kansas City midtown and downtown residents, especially among the minority population. Demonstration gardens has been established at the Swope Park Community Center, Harvesters Demonstration Garden, Ivanhoe Neighborhood Garden, Pendleton Heights Neighborhood Garden, Urban Green Dreams Palestine Neighborhood Garden and 18 Broadway Sustainability Demonstration Garden.
Find more information at MGGKC.org.
Use Tab key to loop through the section below. Press Enter or Space to enter content for each tab button. Press Esc key to exit and to go to the next section at any time.