Protein participant 2-page handout
Editor's note
You can download the PDF or order printed copies of this publication.
See the companion publication N1011, Protein Poster.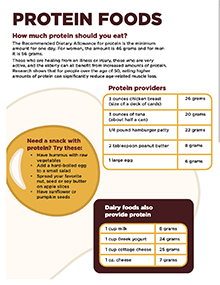 Sarah Wood
Assistant Extension Professor, Department of Health Sciences
Tammy Roberts
Nutrition and Health Extension Specialist
This handout provides information regarding protein in your diet.
Topics
Daily Allowance
Snacks
Providers
Recipe
Facts
Tips for kids
SNAP
Pages