Editor's note
You can download the PDF or order printed copies of this publication.
See the companion publication N1000, Family Meals Poster.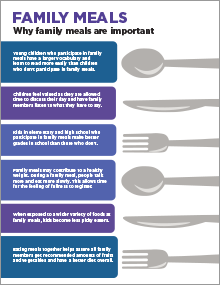 Sarah Wood
Assistant Extension Professor, Department of Health Sciences
Tammy Roberts
Nutrition and Health Extension Specialist
This handout discusses why family meals are important and how they help children develop healthy habits.
Topics
Nutrition
Healthy habits
Family meals
Leading by example
SNAP
Pages