Editor's note
You can download the PDF or order printed copies of this publication.
See the companion publication N1020, The Facts on Fat Poster.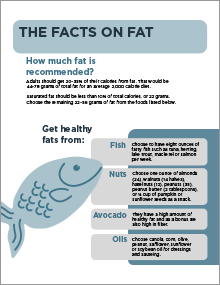 Sarah Wood
Assistant Extension Professor, Department of Health Sciences
Tammy Roberts
Nutrition and Health Extension Specialist
This handout explains how much dietary fat is recommended daily and provides a list of foods with healthy fats. It also discusses saturated fat and provides tips on limiting it.
Topics
Avocado
Daily recommended value
Fish
Nuts
Oils
Saturated fat
SNAP
Pages