Why Eat Breakfast handout
Editor's note
You can read this publication on this page, download the PDF, or order printed copies.
See the companion publication N1007, Why Eat Breakfast Poster.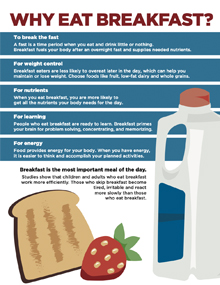 This handout highlights key messages of the dietary guidelines, including the benefits of eating a healthy breakfast.
Topics
Nutrition
Health
Breakfast
Oatmeal
Grains
Milk
Pages
The printed version is a two-page 8.5-by-11 inch handout.