Common Lambsquarters Management in Soybean
Editor's note
The following abstract describes a publication that is intended as a downloadable PDF. Please see the link to the PDF file on this page.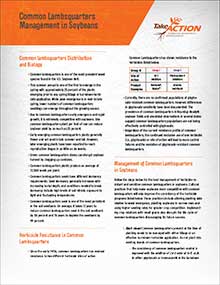 Common lambsquarters is one of the most prevalent weed species found in the U.S. Soybean Belt. This summer annual is one of the first to emerge in the spring, and due to its early emergence and rapid growth, it is extremely competitive with soybeans. This fact sheet provides management practices for controlling this herbicide-resistant weed in soybean fields.