Italian/Annual Ryegrass Management in Soybean
Editor's note
The following abstract describes a publication that is intended as a downloadable PDF. Please see the link to the PDF file on this page.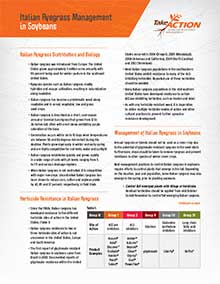 The United States grows about 3 million acres of Italian ryegrass yearly, with 90 percent being used for winter pasture in the Southeast. It has become a problematic weed along roadsides and in cereal, vegetable, row and grass seed crops. When not controlled, Italian ryegrass competes with major row crops. In field trials it has been shown to reduce corn, cotton and soybean yields by 65, 85 and 37 percent, respectively. This fact sheet provides management practices for controlling this herbicide-resistant weed.