Herbicide-Resistant Giant Ragweed Management
Editor's note
The following abstract describes a publication that is intended as a downloadable PDF. Please see the link to the PDF file on this page.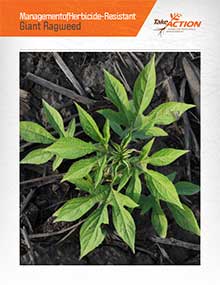 Giant ragweed is a competitive weed that is adapted to the fertile soil crop production acres of the Midwest and Eastern Corn Belt. It typically emerges early in the growing season, and its rapid growth habit and shading ability lead to soybean yield losses, even at low densities. This fact sheet lists management practices for controlling this herbicide-resistant weed.