Waterhemp Management in Soybeans
Editor's note
The following abstract describes a publication that is only available as a downloadable PDF.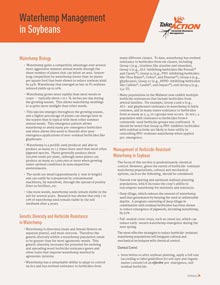 Although several summer annual weeds may be more competitive, waterhemp gains a competitive advantage through the sheer number of plants infesting an area. It is a prolific seed producer that compensates for small seed size by having a higher relative growth rate than most weeds or crops. It emerges throughout the growing season, and its seeds remain viable in the soil for several years. This fact sheet provides steps to achieve optimal control of herbicide-resistant waterhemp populations.