Fire Investigator, 2nd Edition Curriculum
Editor's note
The following abstract describes a publication that is available for purchase on a USB flash drive. See the "Add to cart" button on this page.

If needed, see the MU Fire and Rescue Training Institute tax-exempt ordering information.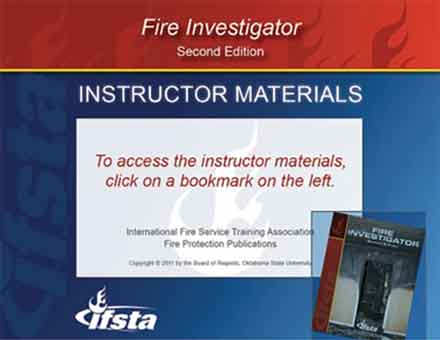 The Fire Investigator Curriculum, 2nd Edition accompanies IFSTA's Fire Investigator, 2nd Edition Manual. The curriculum includes chapter outlines and PowerPoint presentations for every chapter, as well as numerous learning activities. The curriculum is an effective teaching tool to prepare students to certify to NFPA 1033, Standard for Professional Qualifications for Fire Investigator.
The USB flash drive has a user-friendly interface that allows instructors to select the appropriate component from a menu.
All of the files are customizable to allow instructors to add their own information.
Product specifications
Publisher: International Fire Service Training Association (IFSTA)
USB flash drive specs
ISBN: 978-0-87939-440-0