A second year of scouting schools were held in July of 2019. These scouting schools, along with the scouting schools in 2018, were held throughout the state of Missouri as an educational outreach program component of our fungicide trials that are being conducted as part of the Strip Trial program.
The 2019 scouting schools were held at Nashville in Barton County, St. Joseph in Buchanan County, Palmrya in Marion County, and Sikeston in New Madrid County.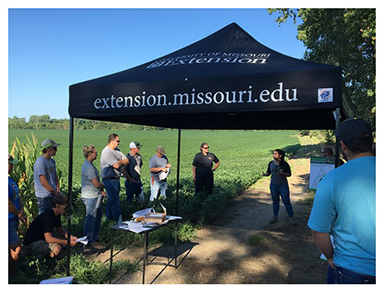 The 2018 scouting schools were held at Benton in Scott County, Jackson in Cape Girardeau County, Hawk Point in Lincoln County, Maryville in Nodaway County, and Irwin in Barton County.
Attendees included farmers, Extension specialists, seed dealers, service providers, local youth, and other interested stakeholders. Participants learned about foliar diseases, the mechanisms behind fungicide resistance, the effectiveness of fungicides, how to identify foliar diseases, what foliar diseases to spray for, and the correct timing to spray for foliar diseases.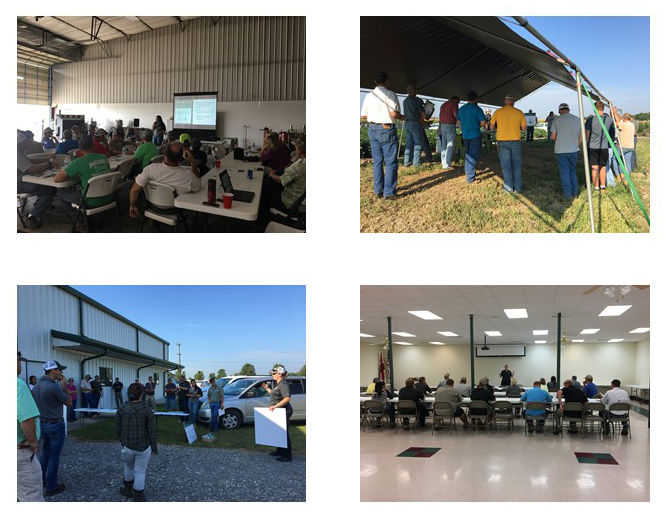 As part of the scouting schools, participants also had an opportunity to walk thru a soybean field to scout for foliar disease and gain hands-on experience.


The MU Strip Trial Program wishes to thank the Missouri Soybean Merchandising Council and the USDA-NIFA for their sponsorship of the scouting schools.