Get started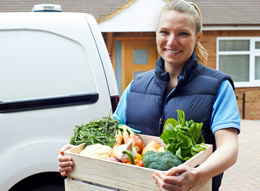 Many vendors in Missouri provide locally grown products to schools and other institutions. But did you know that over 88 percent of food service directors want to use locally grown? That's a big market! And of the food service directors surveyed, 40 percent don't know if their current vendor offers locally grown. Why not let them know?
You can start by telling your food service client what is locally grown or simply use the MoFTS locally grown sticker when you deliver your products. Contact Lorin Fahrmeier to order stickers.
There's no one way to do farm to school. Some food service staff already have relationships with farmers; others have to ask their vendors for it. Here are some steps that can help you create your own program:
Ask for it. Ask your food vendor if they have any locally grown produce or fruit available. They will be able to tell you what is possible, and in the very least, they will know that you are interested in buying local in the future.
Start small. You can make choices that are right for your school and budget. If trying a lot of locally grown produce isn't possible right now, think about ways you might try one local food. In year one, a food service director tried local tomatoes in a pizza sauce. She then expanded in year two to making the sauce and the crust with local ingredients.
Look within your community. Sometimes the best things are right under our noses. Not all small farmers in your community know that you're interested in buying locally grown. Ask your school community if they know of any local farmers or orchards that could provide more produce.
Get advice. Many Missouri schools and communities are using locally grown, and in the words of one school food service director, "Everyone is willing to help and share advice." Find out what has worked for others and see what might fit well for your community.
Resources: Check out these FTS resources for more information and assistance, including links to national programs and materials on Good Agricultural Practices (GAPs).