Get started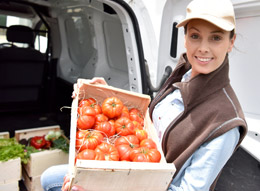 Some farmers, farmers' markets and orchards have already started expanding their markets by growing and selling produce, fruit and other locally grown products to schools, hospitals and other institutions. If you haven't already started thinking about working with a farm to school or farm to table program, here are some ideas to get you started:
Market your wares. Food service directors can't source from you and your farm if they don't know what you have. Assess your farm and develop a marketing packet that tells your story, highlighting what you grow or raise, what your availability is like and how to best get in touch with you. Start developing your plan with this Farmer Self-Assessment guide
Start small. If you find a school or vendor who wants to source from your farm, try contracting to provide one or two items, first. This will give you the time to work out logistics, from contracts to delivery.
Look within your community. Farmers often already have connections with schools or vendors. When you find a school food service customer, it's also a good idea to evaluate if you're a good match. Use our worksheet for evaluating school food service customers.
Get advice. Across the state, many farmers and vendors are already working with schools, universities and hospitals to create farm to school programs. You can find out what is working well for them and get feedback on your potential plan.
Resources: Check out these FTS resources for more information and assistance, including links to national programs and materials on Good Agricultural Practices (GAPs).