About Missouri Farm to School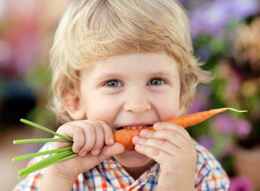 What is Farm to School?
Farm to School may be known as farm-to-fork, farm-to-table, farm-to-institution or many other names. Whichever name it is given, the goal is the same: to get more locally grown products into the cafeterias of schools, day care centers, colleges, hospitals, businesses and other institutions.
Farm to School programs can be as big as serving up locally grown foods in every meal or as simple as offering a locally grown product once. Large or small, each program is important and supports the health and well-being of students and family farmers.
Farm to School in Missouri
Missouri families and schools know that some of the best things to eat are grown close to home. From pre-K to college, at least 78 school districts in Missouri are serving up locally grown produce, fruit and other products in their cafeteria meals and snacks.
Partners
We depend on our partners!
School Staff
Hear from local school staff who are making their farm to school programs work:
Voices from the field: Laina Fullum, Director of Nutrition Services at Columbia Public Schools, talks about the many benefits of farm to school programs.