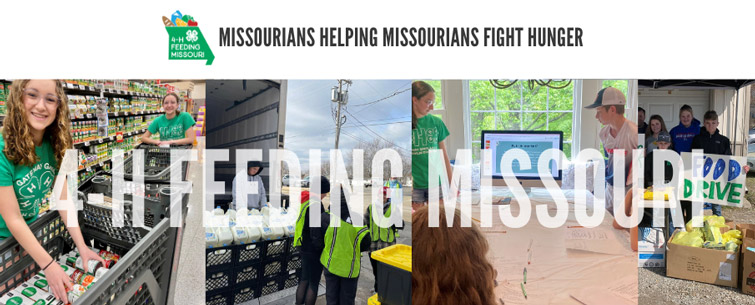 Join 4-H in Feeding Missouri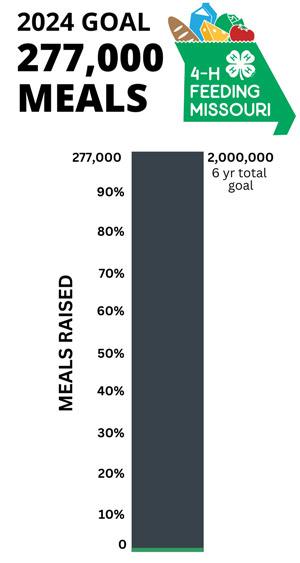 Food insecurity impacted 1 in 8 Americans in 2020.1 People are food insecure if they lack consistent access to enough nutritious food to maintain an active and healthy lifestyle. Recent data from the USDA shows that 11.5% of households in Missouri experienced food insecurity in 2020.2 This means that roughly 693,000 Missourians lack consistent, high-quality, filling meals throughout some, or all, of the year.
One resource that food insecure individuals may find helpful is food pantries. MU researchers found that throughout Missouri, households who use food pantries have to make difficult choices when it comes to paying for food and other essentials like utilities, medical care and housing.3 This is where 4-H comes in. Each year, Missouri counties engage in a friendly competition to raise the most meals for food insecure families through food drives, monetary donations and volunteering time at local food pantries. In the last four years, 4-H clubs have raised over a million meals to feed Missouri families. This year, in partnership with Extension and Engagement Week All Things Food, we're hoping to raise 800,000 more meals! Join us as we impact families across Missouri and decrease food insecurity.
Read the All Things Food Story Map
It's all about Missourians helping Missourians fight hunger.

Partner with us in any way you can.
Action steps you can take now
Create community involvement by sharing posts on social media.
Make a donation.
Connect with a 4-H specialist in your county and partner with them in 4-H Feeding Missouri. Explore ideas in the Plan tab.
Hold a food or money drive to help the foodbanks. Make sure to report your donations in the survey.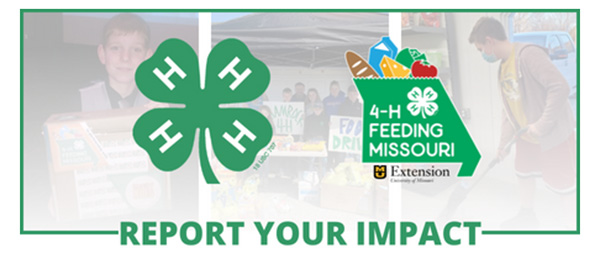 What is 4-H?
In 4-H, we believe in the power of young people. We see that every child has valuable strengths and real influence to improve the world around us.
4-H is delivered by Cooperative Extension—a community of more than 100 public universities across the nation that provides experiences where young people learn by doing. For more than 100 years, 4-H has welcomed young people of all beliefs and backgrounds, giving kids a voice to express who they are and how they make their lives and communities better.
How does Missouri 4-H fight food insecurity?
4-H Feeding Missouri began in 2018 as a partnership between Missouri 4-H and Feeding Missouri. Our goal was to bring awareness to the issue of food insecurity and to encourage our 4-H members and volunteers to take action in their own communities to fight hunger. We held a friendly competition between counties to see who could raise the most meals by collecting food and/or monetary donations and by donating their time at local food pantries and/or educating the public about food insecurity.
In 2019, we added Missouri Farmers Care as a partner and became part of the Drive to Feed Kids. And in 2020, Missouri Farmers Care rolled out Hogs for Hunger as an opportunity for youth in 4-H and FFA to donate their hogs as a source of protein to Missouri's foodbanks.
This year, through MU's Extension and Engagement topic of food, we hope to gain more partners and participation in 4-H Feeding Missouri. We ask you to take a look at how you could contribute.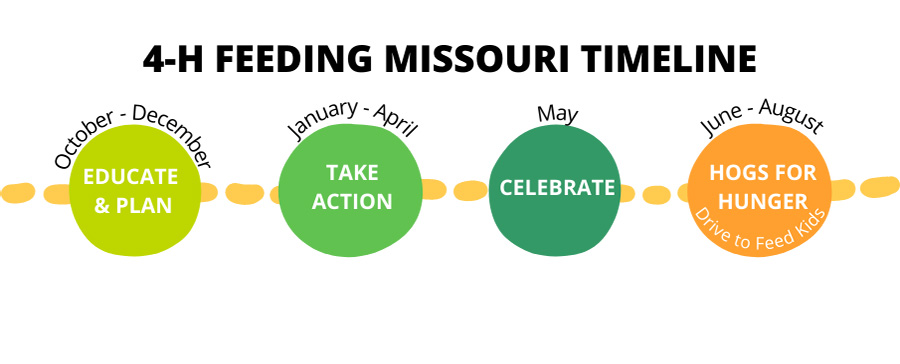 Show/Hide

October — December

Show/Hide

Education

This is the time to start learning about food insecurity. Take a look at the resources and find out how your area is affected.

Add a 10-15 minute presentation to club meetings that teach about food insecurity and explain how the friendly competition works.
Is your specialty in food security? Offer to speak about what you know and how they can help.

Show/Hide

Plan

Decide how your 4-H club/entity is going to fight food insecurity. Ideas include:

Volunteering at your local food pantry
Hosting a food drive or collecting monetary donations
Giving presentations at local entities (school, Lions Club, Optimists, etc.)

Set a goal of how many meals you will raise.
Create a timeline. Plan and schedule:

Educational, outreach, presentation, e.g. local Rotary, town council meetings, etc.
Food collection strategies. Will you have community drop-off points or specific collection events? Confirm locations and times.
Can you partner with a 4-H club to provide space or supplies to help with these events?
Contact and introduce yourself to your local food pantry/bank. Find out their needs and when you can drop off food and/or volunteer.

Start initial promotions of your activities using posters, newsletters, church bulletins, social media, etc.

Show/Hide

January — April

Take action and report

Put your plan into motion!
Promote your plan!

Using posters, newsletters, church bulletins, social media, etc.
If doing a social media campaign:

Use pictures of your club in action to promote
Include the Text to Give option or URL to donate
Text "4HFM" to 44-321 to donate.
Visit https://feedingmissouri.org/4H to donate.
Use the hashtag #4HFeedingMo

Report what you are doing as you go!

Use the Qualtrics survey to report volunteer hours, pounds of food donated, and any local monetary donations. You can use this survey more than once! For each event have one club member or volunteer report totals for your group.

We use the honor system: : weigh on your bathroom scale; use package measurements; give your best estimate; see if local food pantry has a scale

The friendly competition ends at 11:59 pm on April 30! Anything reported after that will count toward total 4-H Feeding Missouri numbers but not towards the competition.
If you collected money, deposit all money and either:

Donate via the online platform with a debit card OR
Write ONE check with all collections made out to Feeding Missouri and send it to Feeding Missouri, Attn: Chris, 2306 Bluff Creek Drive, Columbia, MO 65201
Must be received in their office by May 8 to county towards county competition.

Show/Hide

May

It's time to celebrate our success! The overall results of 4-H Feeding Missouri and the county competition will be aired on the Missouri 4-H Facebook page during Missouri 4-H Week (tentatively Wed. May 29 at 10 AM.)

Make sure to debrief and celebrate locally! Reflect on what you did and what went right and what you would do differently.

Show/Hide

June — August

Show/Hide

Hogs for Hunger

In 2020, Missouri Farmers Care rolled out Hogs for Hunger as an opportunity for youth in 4-H and FFA to donate their hogs as a source of protein for Missouri's foodbanks. They have options to donate locally or after the swine shows at the Missouri State Fair.

Since this happens after 4-H Feeding Missouri is over for the year, we will add the meals created by the hogs to the following year's competition.

Please visit the Hogs for Hunger webpage for more information.

Show/Hide

Box Packing Event at the Missouri State Fair

We have added a box packing event at the Missouri State Fair in the 4-H Building. It usually occurs on the Monday of the Fair and we ask anyone who happens to be at the fair that day to come help us put together boxes of food veterans and their families.

Show/Hide

Monetary donations

There are 3 ways money can be donated:

Website: All monies donated go directly to Feeding Missouri. Using the link below, anyone can make a donation and choose which county gets "credited" for the competition.

Include the website URL in your posts and let everyone know to choose your county in the drop-down menu when they donate.

Text to Give: also goes through Feeding Missouri.

Include a statement in your posts or marketing pieces.
Text "4HFM" to 44-321

Collect cash donations

The club leader and/or club treasurer will receive donations and deposit in the clubs checking account.
At the end of the drive, the club treasurer will send a check (made out to Feeding Missouri ) covering the amount of any cash donations AND a note that says what county you are in to:
Feeding Missouri
ATTN: 4-H Feeding Missouri
2306 Bluff Creek Drive
Columbia, MO 65201
Note: We ask that donations are sent to Feeding Missouri because of the purchasing power of large food banks. However, we realize some of you want to donate to your local food pantry. To report that those donations, use the Qualtrics Survey as you would for volunteer hours and food donations.

Show/Hide

How the friendly competition works

Show/Hide

Report efforts

Using the data gathered from the Qualtrics survey and the donation reports from Feeding Missouri, donations will be converted into meals and be tallied per county. The county with the most meals donated wins the competition!

The friendly competition ends at 11:59 pm on April 30. Anything reported after that will count toward total 4-H Feeding Missouri numbers but not towards the competition.
If you collected money, deposit all money and either:

Write ONE check with all collections made out to Feeding Missouri and send it to Feeding Missouri, Attn: Chris, 2306 Bluff Creek Drive, Columbia, MO 65201
Must be received in their office by May 8 to county towards county competition.

Show/Hide

How meals are calculated

We use the formulas provided to us by Feeding Missouri to convert monetary and food donations and volunteer hours into meals.

Food: pounds of food × 1.2 = meals
Money: money × 10 = meals
Volunteer Hours: hours × 80 = meals

Show/Hide

Mini-grant

Missouri Farmers Care generously offers 4-H clubs and counties matching mini-grants to support local 4-H Feeding Missouri Initiatives. Through the program, approximately 16 4-H clubs/counties will be awarded $250 grants.

Applications are due by Dec. 15. Recipients will be contacted by Feb. 1. If all funds have not been awarded, we will take more applications. Details, application, and final report are available below.

Show/Hide

Resources