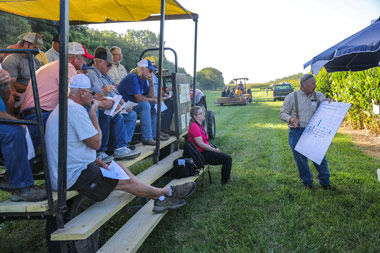 Research
This collective 200-acre leased farm implements applied research, demonstrates management practices for crop production, and evaluates new and sustainable crop production practices.
Projects
Weed control on soybeans, corn, grain sorghum and forages
Planting rates and dates
Comparisons of tillage methods
Factors affecting soybean cyst nematodes
Seed treatments
Fertilizer rates, sources and placement
Variety testing See results
Global positioning systems applications
Comparisons between cool-season and warm-season grasses
Education
Each year Graves-Chapple Research Center hosts dozens of students for its annual Agriculture Education Field Day. Students from around the area visit the center to learn more about agriculture, Mizzou and future careers connected to agriculture and food production. The 2022 Field Day is scheduled for August 23.
Contact Jim Crawford at 660-744-6231 for more information.