Missouri Economy Indicators
Recent issues
Producers are exploring agritourism to diversify and grow farm-based revenues as consumers drive interest in these opportunities. According to the latest Census of Agriculture, farm agritourism revenue tripled between 2002 and 2017 and accounted for 5.6% of U.S. farm-related income in 2017. Missouri farms reported total agritourism sales of $15.6 million in 2017. Estimating an average agritourism income of nearly $24,000 per operation, Missouri ranked 4th among border states.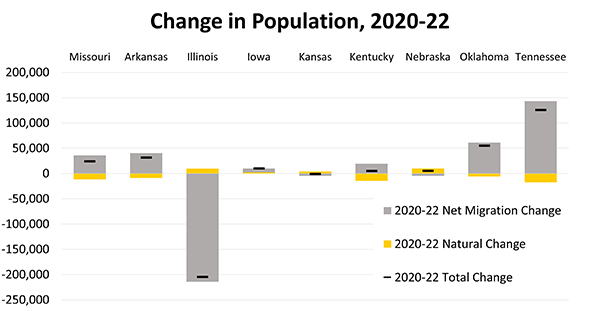 As of 2022, Missouri was the 18th largest state by population — up from 19th in 2020. Missouri had an overall gain in population between 2020-22 due to an increase in net migration. That migration offset a natural decrease in population - more deaths (12,915) than births – over that same time. Between 2020-22, half of all U.S. States had a natural decrease in population.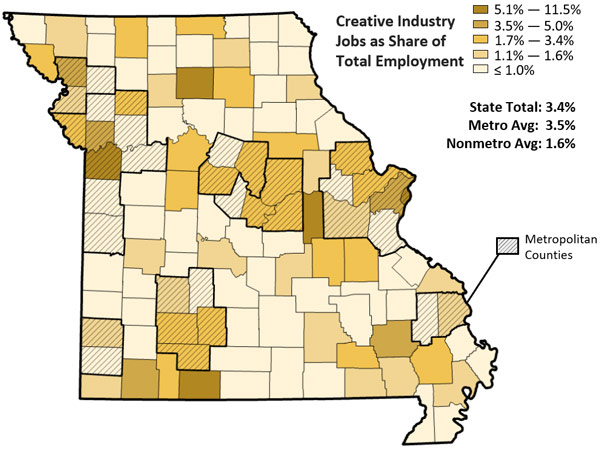 Creative industries employed nearly 109,000 Missourians in 2022 - 3.4% of the state's workforce. From 2017 to 2022, Missouri's creative industries added 4,098 jobs in the state for a 3.9% increase in employment. This compares to a 0.6% increase for all Missouri jobs. Most of Missouri's creative industry jobs are concentrated in metropolitan areas. The two largest metropolitan areas – Kansas City and St. Louis – account for almost six of every ten creative jobs in the state.
---
---